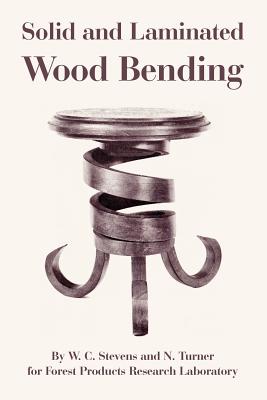 Solid and Laminated Wood Bending
Paperback

* Individual store prices may vary.
Description
CONTENTS: Introduction. The Principles of Wood Bending SOLID BENDING The Selection and Preparation of Bending Material Quality - Species - Trees - Moisture content - Machining Softening Treatments Steaming - Other heating methods - Chemical treatments - Compressed wood Hand Bending Cold bending - Hot bending (unsupported) - Hot bending (supported) - Simple "U" bend - Two-plane bends - Re-entrant and "S" type bends - Chair leg bends - Transverse bending Machine Bending Rope and windlass machine - Lever arm machines - Revolving table machine - Presses - Spade handle bending machines - Cooperage The Setting of Bends The movement or change in shape of bends LAMINATED BENDING The Process of Laminated Bending Selection and preparation of laminae - Glues - Pre-bending Pressing Laminae to Shape Male and female forms - Fluid pressure - The continuous strip method - Laminated inserts - Two-plane bends - Laminated tubes and cylinders - Moulding Glue Setting The setting of laminated bends - Strip heating - Determination of setting times - Miscellaneous setting methods The Movement and Distortion of Laminated Bends The movement of laminated bends - Distortion of bends Theoretical Considerations Assessment of bending qualities from compressive and tensile stress-strain relationships - End pressures - Tension and compression tests - Minimum radius - Bending moments - Comparison between theoretical and actual bending values - Comments - Movement of bends Index.
Fredonia Books (NL), 9781410109019, 100pp.
Publication Date: March 21, 2006