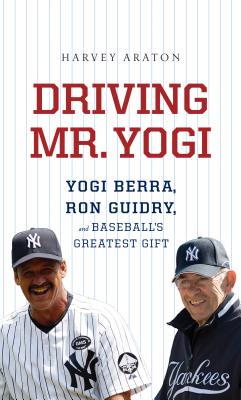 Driving Mr. Yogi (Hardcover)
Yogi Berra, Ron Guidry, and Baseball's Greatest Gifts
Thorndike Press, 9781410447333, 371pp.
Publication Date: April 20, 2012
Other Editions of This Title:
Hardcover (4/3/2012)
Compact Disc (3/5/2013)
Paperback (3/5/2013)
MP3 CD (11/4/2014)
Compact Disc (4/17/2012)
MP3 CD (4/1/2012)
Compact Disc (4/1/2012)
MP3 CD (3/5/2013)
MP3 CD (4/17/2012)
* Individual store prices may vary.
Description
It happens every spring. Yankees pitching great Ron Guidry arrives at the airport to pick up Hall of Fame catcher and national treasure Yogi Berra. Guidry drives him to the ballpark. They watch young players. They talk shop. They eat dinner together. They tease each other. And as every former ballplayer knows, in that routine there emerges a certain magic.
" Driving Mr. Yogi" is the story of how a unique friendship between a pitcher and catcher is renewed every year. It started in 1999, when Berra was reunited with the Yankees after a long self-exile, the result of being unceremoniously fired by George Steinbrenner 14 years before. A reconciliation meant Berra would attend spring training again, and Guidry befriended "Mr. Yogi" instantly. After all, Berra had been a mentor in the clubhouse back when Guidry was pitching. Guidry knew the young players would benefit greatly from "Mr. Yogi's" knowledge of the game. So he encouraged him to share his insights. And soon an offhand tip from Yogi turned Nick Swisher's season around. Stories about handling a hitter like Ted Williams or catching Don Larsen's perfect game captured their imaginations. And for Yogi and Guidry, a deep and lasting friendship was forged.
Tender, funny, heartwarming, and teeming with unforgettable baseball yarns, "Driving Mr. Yogi" is a universal story about the importance of passing wisdom from one generation to the next.

or
Not Currently Available for Direct Purchase