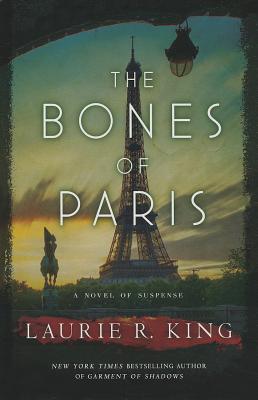 The Bones of Paris
Hardcover

* Individual store prices may vary.
Other Editions of This Title:
Digital Audiobook (3/28/2018)
Digital Audiobook (9/9/2013)
Paperback (10/7/2014)
Hardcover (9/10/2013)
Description
"New York Times" bestselling author Laurie R. King, beloved for her acclaimed Mary Russell/Sherlock Holmes series, consistently writes richly detailed and thoroughly suspenseful novels that bring a distant time and place to brilliant life. Now, in this thrilling new book, King leads readers into the vibrant and sensual Paris of the Jazz Age--and reveals the darkest secrets of its denizens.
Paris, France: September 1929. For Harris Stuyvesant, the assignment is a private investigator's dream--he's getting paid to troll the cafes and bars of Montparnasse, looking for a pretty young woman. The American agent has a healthy appreciation for "la vie de boheme, " despite having worked for years at the U.S. Bureau of Investigation. The missing person in question is Philippa Crosby, a twenty-two year old from Boston who has been living in Paris, modeling and acting. Her family became alarmed when she stopped all communications, and Stuyvesant agreed to track her down. He wholly expects to find her in the arms of some up-and-coming artist, perhaps experimenting with the decadent lifestyle that is suddenly available on every "rue" and "boulevard."
As Stuyvesant follows Philippa's trail through the expatriate community of artists and writers, he finds that she is known to many of its famous--and infamous--inhabitants, from Shakespeare and Company's Sylvia Beach to Ernest Hemingway to the Surrealist photographer Man Ray. But when the evidence leads Stuyvesant to the Theatre du Grand-Guignol in Montmartre, his investigation takes a sharp, disturbing turn. At the Grand-Guignol, murder, insanity, and sexual perversion are all staged to shocking, brutal effect: depravity as art, savage human nature on stage.
Soon it becomes clear that one missing girl is a drop in the bucket. Here, amid the glittering lights of the cabarets, hides a monster whose artistic "coup de grace" is to be rendered in blood. And Stuyvesant will have to descend into the darkest depths of perversion to find a killer . . . sifting through "The Bones of Paris."
The award-winning novels of Laurie R. King are . . .
"Delightful and creative."--"The Wall Street Journal"
"Intricate clockworks, wheels within wheels."--"Booklist" (starred review)
"Audacious.""--Los Angeles Times"
" "
"Rousing . . . riveting . . . suspenseful.""--Chicago Sun-Times"
" "
"Imaginative and subtle."--"The Seattle Times"
"Impossible to put down."--"Romantic Times"
"Beguiling . . . tantalizing."--"The Boston Globe"
Thorndike Press, 9781410462213, 659pp.
Publication Date: October 9, 2013
About the Author
Laurie R. King is the "New York Times" bestselling author of thirteen Mary Russell mysteries, five contemporary novels featuring Kate Martinelli, and the acclaimed novels "A Darker Place, Folly, Keeping Watch, " and "Touchstone." She lives in Northern California.
or
Not Currently Available for Direct Purchase