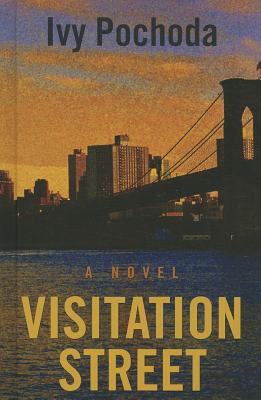 Visitation Street (Hardcover)
Thorndike Press, 9781410462954, 479pp.
Publication Date: October 30, 2013
Other Editions of This Title:
Digital Audiobook (7/8/2013)
Digital Audiobook (7/19/2013)
Paperback (4/15/2014)
Hardcover (1/1/2020)
Hardcover (7/9/2013)
* Individual store prices may vary.
Description
Summer in Red Hook, Brooklyn, a blue collar dockside community where the East River opens into the bay. The nice streets are the streets that have trees. The bar called the Dockyard is not trying to be ironic. June and Val, two fifteen-year-old girls, head out onto the bay one night on a hot pink inflatable raft, beckoned by the skyline of Manhattan. Only Val makes it back to land, washed ashore semi-conscious in the weeds.
What exactly happened to June that night has reverberations for everyone in Red Hook: Fadi, the Lebanese bodega owner; Cree, a teenager whose father was murdered; and Jonathan, an alcoholic music teacher drawn to Val. As in the work of Richard Price and Zadie Smith, the physical and emotional landscape of the setting is indelible. Ivy Pochoda has a gift for conveying those arresting details that beautifully capture a neighbourhood, a night or a city with a few bold strokes. And then she draws us into a compelling story, a page-turner in the best sense: not only do we need to know what happens to the girls, but we need to know these characters better, where they come from and where they're heading. A novel about seizing the chance to escape--even at great risk--Visitation Street is a gripping and absorbing read.
Praise for Visitation Street
"Pochoda's premise is inspired, the novel that unfolds even more so. Rich characters, surprising shifts of plot and mood. I loved it." -- Lionel Shriver, award winning author of We Need to Talk About Kevin
"Visitation Street immersed me completely in the neighborhood of Red Hook, and brought its inhabitants to life in beautiful, haunting prose. Ivy Pochoda brings forth the full palette of human emotions in this gripping urban drama, a story that hurts you on one page and gives you hope on the next. A marvelous novel." -- Michael Koryta, award winning author of So Cold the River
"Ivy Pochoda makes the saltiness of Brooklyn's Red Hook come to life so vividly that every time I looked up from the pages of this intoxicating novel, I was surprised not to be there. Reading Visitation Street, imbued as it is with mystery and danger, I am utterly convinced that Pochoda is herself a medium, capable of communicating across boundaries real and imagined, across noisy courtyards and over rough waves. She is simply too good at hearing voices-and sharing them-for that not to be the case." -- Emma Straub, author of Laura Lamont's Life in Pictures
"The book is rich with characters and mood and will make readers feel like they've walked the streets of Red Hook. Everyone in the story deserves a measure of sympathy, from the girls on the raft to the shoplifting teenager to the pathetic uncle who won't tell anyone anything for free. Red Hook itself feels like a character-hard-worn, isolated from the rest of New York, left behind and forgotten. A terrific story in the vein of Dennis Lehane's fiction." -- Kirkus Reviews (starred review)
"Exquisitely written, Pochoda's poignant second novel examines how residents of Brooklyn's Red Hook neighborhood deal with grief, urban development, loss, and teenage angst. ... Pochoda couples a raw-edged, lyrical look at characters' innermost fears with an evocative view of Red Hook." --Publishers Weekly (starred review)
or
Not Currently Available for Direct Purchase