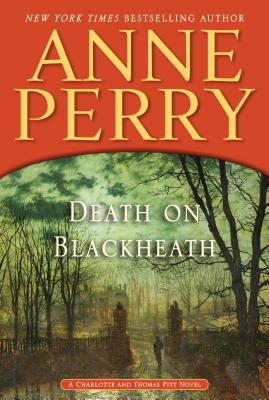 Death on Blackheath
Hardcover

* Individual store prices may vary.
Other Editions of This Title:
Digital Audiobook (3/24/2014)
Paperback (3/10/2015)
Hardcover (3/25/2014)
Description
Anne Perry's superb "New York Times" bestselling novels set in the glorious reign of Victoria are loved by readers far and wide. Now, with this new Charlotte and Thomas Pitt mystery, Perry returns us to that charmed era, when wealth and power rule--but where, alas, poisonous corruption lies coiled in the heart of the empire.
As commander of the powerful Special Branch, Thomas Pitt has the job of keeping Britain safe from spies and traitors. So there's no obvious reason why he is suddenly ordered to investigate two minor incidents: the blood, hair, and shards of glass discovered outside the home of naval weapons expert Dudley Kynaston, and the simultaneous disappearance of Mrs. Kynaston's beautiful lady's maid.
But weeks later, when the mutilated body of an unidentified young woman is found near Kynaston's home, Pitt realizes that this is no ordinary police investigation. Far from it. Is Kynaston--one of Britain's most valuable scientists--leading a double life? Is Pitt saddled with a conspiracy so devilishly clever that it will ruin him?
A baffled Pitt has never needed his friends more desperately, including his indomitable wife, Charlotte; his canny old colleague Victor Narraway; and his personal drawing-room spy, Lady Vespasia Cumming-Gould. But even these allies may not be able to save Pitt--or Britain.
" "
Only Anne Perry could have created the tense unfolding of plot and counterplot, love and betrayal, scandal and murder that follows. "Death on Blackheath" is rich with fascinating characters, authentic period flavor, knife's-edge suspense, and a haunting, unforgettable denouement.
Praise for Anne Perry's most recent Charlotte and Thomas Pitt novels
"Midnight at Marble Arch"
"Sweeping and scandalous . . . Perry has perfected a delicate touch."--"The New York Times Book Review"
"Perry is a master at illuminating the wrongs of the Victorian age."--"Booklist "(starred review)
"Dorchester Terrace"
"The always clever Anne Perry infuses "Dorchester Terrace" with the right amount of intrigue and complex relationships that have made this prolific series one of the finest in modern mystery fiction."--"Bookreporter"
" "
"Treason at Lisson Grove"
"Perry has always done her historical homework on the darker elements of the British ruling class, and she has outdone herself this time.""--The Washington Times"
" "
"Buckingham Palace Gardens"
"An intricate plot about a murder at the palace with] an irresistibly appealing "Upstairs, Downstairs" perspective . . . a fine introduction to Perry's alluring world of Victorian crime and intrigue."--"The New York Times Book Review"
"Another winner . . . a wonderful cast of characters with many twisting plots."--Vero Beach "Press Journal"
Thorndike Press, 9781410467485, 509pp.
Publication Date: April 4, 2014
About the Author
Anne Perry is the bestselling author of two acclaimed series set in Victorian England: the Charlotte and Thomas Pitt novels, including "Midnight at Marble Arch "and "Dorchester Terrace, "and""the William Monk novels, including "Blind Justice" and "A Sunless Sea." She is also the author of a series of five World War I novels, as well as eleven holiday novels, most recently "A Christmas Hope, " and a historical novel, "The Sheen on the Silk, " set in the Ottoman Empire. Anne Perry lives in Scotland.
or
Not Currently Available for Direct Purchase