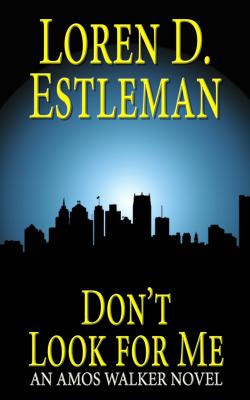 Don't Look for Me (Hardcover)
Thorndike Press, 9781410468536, 369pp.
Publication Date: May 28, 2014
Other Editions of This Title:
Hardcover (3/18/2014)
Pre-Recorded Audio Player (3/18/2014)
Compact Disc (3/18/2014)
MP3 CD (3/18/2014)
* Individual store prices may vary.
Description
Amos Walker doesn't mean to walk into trouble. But sometimes it finds him, regardless. The missing woman has left a handwritten note that said, "Don't look for me." Any P.I. would take that as a challenge, especially when he found out that she'd left the same message once before, when having an illicit affair.
But this time it's different. The trail leads Walker to an herbal remedies store, where the beautiful young clerk knows nothing about the dead body in the basement...or about any illegal activity that might be connected to the corpse. She is, however, interested in Walker's body, and he discovers he's interested in hers as well.
But he can't tarry long, for the Mafia could be involved...or maybe there's a connection to the porno film studio where the missing woman's former maid now works. But when two Mossad agents accost Walker--and then are brutally killed--he realizes he's discovered a plot far darker run by someone more deadly than either the Detroit Mafia or a two-bit porn pusher.
Who--or what--could be so viciously murderous? Walker has few clues, and knows only that with every new murder he is no closer to solving the case. When he finally gets a break, he recognizes the silken, deadly hand of a nemesis who nearly killed him twice before...and this time may finish the job.
In Loren D. Estleman's "Don't Look For Me, "Amos Walker's up to his neck in dames, drugs...and murder, again.
About the Author
LOREN D. ESTLEMAN is the author of more than seventy novels, including twenty-two previous Amos Walker noir thrillers. He has won four Shamus Awards for his hard-boiled detective fiction, five Spur Awards for Western fiction, and three Western Heritage Awards. His most recent novel is "The Confessions of Al Capone, " a major work based on the life of the infamous mobster. He lives with his wife, author Deborah Morgan, in central Michigan.
or
Not Currently Available for Direct Purchase