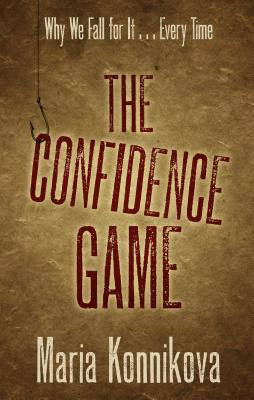 The Confidence Game (Hardcover)
Why We Fall for It. . .Every Time (Thorndike Crime Scene)
Thorndike Press, 9781410489289, 582pp.
Publication Date: May 4, 2016
Other Editions of This Title:
Digital Audiobook (1/11/2016)
Paperback (1/10/2017)
Hardcover (1/12/2016)
* Individual store prices may vary.
Description
"It's a startling and disconcerting read that "should" make you think twice every time a friend of a friend offers you the opportunity of a lifetime.
Erik Larson, #1 "New York Times" bestselling author of "Dead Wake "and bestselling author of "Devil in the White City"
"
"Think you can t get conned? Think again. The"New York Times"bestselling author of"Mastermind: How to Think Like Sherlock Holmes "explains how to spot the con before they spot you.""
"
"A compelling investigation into the minds, motives, and methods of con artists and the people who fall for their cons over and over again.
While cheats and swindlers may be a dime a dozen, true conmen the Bernie Madoffs, the Jim Bakkers, the Lance Armstrongs are elegant, outsized personalities, artists of persuasion and exploiters of trust. How do they do it? Why are they successful? And what keeps us falling for it, over and over again? These are the questions that journalist and psychologist Maria Konnikova tackles in her mesmerizing new book.
From multimillion-dollar Ponzi schemes to small-time frauds, Konnikova pulls together a selection of fascinating stories to demonstrate what all cons share in common, drawing on scientific, dramatic, and psychological perspectives. Insightful and gripping, the book brings readers into the world of the con, examining the relationship between artist and victim."The Confidence Game"asks not only why we believe con artists, but also examines the very act of believing and how our sense of truth can be manipulated by those around us.
About the Author
Maria Konnikova s articles have appeared online and in print in the "New Yorker," the "Atlantic," the "New York Times, Slate, " the" New Republic, " the "Paris Review, " the "Wall Street Journal, Salon, " the "Boston Globe, "the "Observer, "the "Scientific American "MIND," "WIRED," "and the "Scientific American," among numerous other publications. Maria blogs regularly for the "New Yorker" and formerly wrote the Literally Psyched column for the "Scientific American" and the popular psychology blog Artful Choice for Big Think. She graduated magna cum laude from Harvard University, where she studied psychology, creative writing, and government, and received her Ph.D. in Psychology from Columbia University."