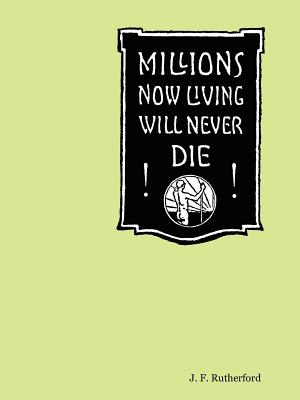 Millions Now Living Will Never Die! (Paperback)
Lulu.com, 9781411628984, 132pp.
Publication Date: April 16, 2005
* Individual store prices may vary.
Description
A public talk titled "The World Has Ended; Millions Now Living May Never Die" was first delivered on February 24, 1918 in Los Angeles, California. Five weeks later, on March 31, 1918 the title was changed to indicate absolute certainty: "The World Has Ended; Millions Now Living Will Never Die." The public talk continued to be delivered under that same title until 1925. The material was published as this book in 1920. This book may be of interest to students of human psychology and students of religious movements, particularly millennialist apocalyptic, "prophetic" religious movements. It is now republished in a larger, easy-to-read format for purposes of research, scholarship, teaching, news reporting, commentary or criticism. With the exception of the rear cover, every page is a photographically enlarged duplicate of the original publication. Once hard to find, this reprinting makes this historic book available at a reasonable price.