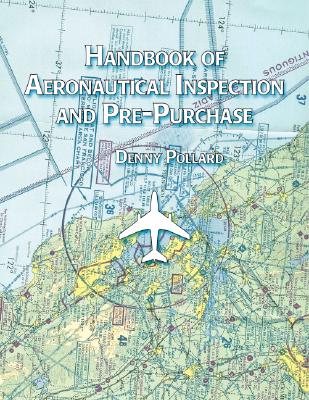 Handbook of Aeronautical Inspection and Pre-Purchase (Paperback)
Trafford Publishing, 9781412050654, 256pp.
Publication Date: December 20, 2005
* Individual store prices may vary.
Description
If you are a prospective owner, pilot, broker, or aviation mechanic or anyone who needs to know where to find information about the aviation airworthiness, maintenance, inspections and rules---you'll find all he information you need in this one volume.
The following expert tips in this book will walk you thought step by step without worrying if you are buying a hangar queen. Every aspect about inspections, mechanic privileges, mechanic and owner responsibilities and what you should look for and inspect when choosing an aircraft. Know where to find the tools to aid in research of the aircraft history, specifications, details on modifications and changes made through the years, Type-Certificate Date Sheets, FAA Airworthiness Directives, Supplementary Type Certificates, Maintenance Alerts for each make and model aircraft, and aircraft records.
This book documents the history, experiences and hardships of purchasing aircraft. It describes the difficult and hazardous situations demanding ingenuity, resourcefulness and a lot of difficult hard work. Denny's years of experience in the aviation field demonstrates a lesser-known side of aviation that is from the mechanic's' perspective. This book is the first of its' kind and once started, compels the reader to continue to the last page.
Before you buy your next aircraft, have an independent inspection completed by an Airframe and Powerplant mechanic. Whether you are an American or overseas buyer you will be able to buy with confidence with a pre-purchase inspection. With your pre-purchase inspection you should receive an extensive condition report verifying the condition and originality on the aircraft you wish to purchase. The pre-purchase should be able to tell you if the aircraft is currently airworthy, and if the aircraft has been in an accident or been modified.
Along with the detailed report you should receive several photographs, including pictures of the fuselage, engine compartment, and interior and close ups of areas of concern. After the inspection, the mechanic or agent for service should discuss this information with you.
Are you aware the pre-purchase agreement you sign may be the single most important document, among the dozen or so documents sometimes required? And which specific items should you include in your purchase agreement.
Has your aircraft (Or the One That You Are Thinking About Purchasing) been subjected to less than scrupulous inspection and maintenance practices, over the years?
Sometimes even a very competent pre-purchase inspection does not include a complete inspection of the aircraft records because it is often very time consuming to read them thoroughly. Positively, the most enlightening pre-buy inspection is a good evaluation of the aircraft maintenance records. A complete evaluation will identify the current status of the aircraft as required by 14 CFR 91.417, uncover time frames of no maintenance, or lack of maintenance, identify inaccurate engine cycle tracking as well as aircraft time tracking and reveal aircraft damage history.
Prospective purchaser is responsible for discovering discrepancies that can only be revealed by in-flight evaluation such as flight characteristics, proper functioning of navigational instrumentation, avionics and autopilot. The purpose of the Pre-purchase Inspection is to protect the interest of the buyer; it is not intended to be an Annual/Airworthiness Inspection.