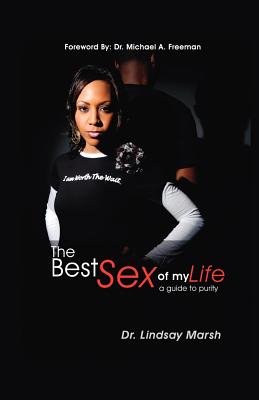 The Best Sex of My Life: A Guide to Purity (Paperback)
A Guide to Purity
Trafford Publishing, 9781412091572, 100pp.
Publication Date: July 6, 2006
About the Author
Dr. Lindsay Marsh is a young, inspiring woman with a heart to see young people: teenagers, college students and singles, experience God's best, and fulfill their destinies, while keeping their own 'flavor' as a sold-out believer, who is not ashamed of the gospel. Originally from Shaker Heights, Ohio, Minister Lindsay attended The George Washington University in Washington, D.C. for undergraduate, medical school, and post-graduate training, specializing in anesthesiology. June 2006 marks the official completion of her residency training in anesthesiology, concluding a long road of intensive training and sacrifice, accomplished only by His grace. She was chosen as an Early Selection Honoree for the School of Medicine, and therefore exempt from taking the national qualifying exam, the MCAT. Yielding to the call of God on her life, she was ordained at the age of 21, became a physician at the age of 25, and began building her first dream home at the age of 27. She openly shares her present triumphs and past struggles of keeping her virginity and living a pure life before God, to provide an example for young believers to follow. Upon moving to Washington, DC at the age of 18, she connected with her awesome Pastors and mentors Drs. Mike and Dee-Dee Freeman of Spirit of Faith Christian Center, in Temple Hills, M.D. At Spirit of Faith, Minister Lindsay serves as one of her Pastors' personal assistants and is director of "Word Up!," a Christian campus outreach designed to focus on college issues like, sex, Greek life, relationships, and money management. Minister Lindsay and one of her close friends founded "Word Up!" during their sophomore year of college, providing a bible-believing, bible-teaching resource for their peers. GW awarded her with the 'Excellence in Student Life Award', a campus honor and scholarship acknowledging outstanding student leadership and service within the campus community. She is also CEO and creative director of Worth The Wait, LLC an exciting, new clothing label, which challenges the current standard of our day, by emphasizing and celebrating abstinence. Worth The Wait is sexual purity urban expression gear for both men and women. This clothing line is for those who accept the task of representing sexual purity with a little contemporary style and urban class. She is also a leader for S.W.A.T. (Sold-Out Word Activated Teenagers), a radical ministry focused on providing teenagers with real life answers from the Word, to everyday situations, ranging from homosexuality to obedience to parents. She is greatly humbled and appreciative of God's blessing and favor on her life and accepts the challenge of being a 'supermodel' for the kingdom of God. She gives God all the glory and credits her success to Him, her Parents and her Pastors.
Advertisement