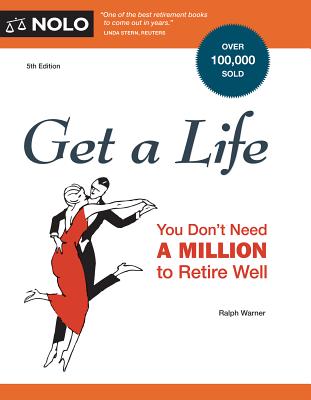 Get a Life (Paperback)
You Don't Need a Million to Retire Well
NOLO, 9781413300840, 416pp.
Publication Date: January 1, 2005
* Individual store prices may vary.
Description
Retire happy and healthy without keeping a million bucks in the bank The financial-service industry wants you to believe that in order to avoid financial destitution, you need to put aside huge amounts of money that you -- let's say it together -- ""should have begun saving years ago."" Not true, states Ralph Warner, Nolo co-founder and the author of Get a Life. Although a sensible savings plan makes good horse sense, many other actions and decisions will determine whether you enjoy your retirement years. Get a Life shows you how to beat the anxiety surrounding retirement, and to develop a plan to make your golden years the best of your life by: - developing family relationships
- maintaining and creating friendships
- improving health
- keeping active
- developing a robust curiosity for the world
- realistically calculating how much money you need and how to secure it The 5th edition provides the latest research and studies that show physically and mentally active retirees live longer and enjoy happier lives. Get a Life shares with readers sensible ways to ensure a fulfilling retirement ways that have little to do with accumulated wealth and everything to do with quality of life. Warner stresses the importance of: developing family relationships; maintaining and creating friendships; improving health; keeping active; developing a robust curiosity for the world. Conversations with a variety of active, older individuals also featured.
About the Author
Ralph ""Jake"" Warner, a pioneer of the do-it-yourself law movement, founded Nolo with Ed Sherman in 1971. Nolo began publishing do-it-yourself law books written by Jake and his colleagues after numerous publishers rejected them. When personal computers came along, he added software to many Nolo books. When the Internet arrived, he championed the move online, where Nolo published huge amounts of free legal information.In addition to running Nolo for much of its first 40 years, Warner was an active editor and author. He wrote many books, including Retire Happy: What You Can Do Now to Guarantee a Great Retirement and Save Your Small Business: 10 Crucial Strategies to Survive Hard Times or Close Down & Move On. Today, he operates a storytelling repertory group, Jake's Tales, devoted to keeping alive the tradition of telling children wonderful stories.Warner holds a law degree from Boalt Hall School of Law at the University of California at Berkeley and an undergraduate degree in history from Princeton.
Praise For Get a Life: You Don't Need a Million to Retire Well…
"On my scale of one to 10, this great book rates an off-the-chart 12." Robert Bruss "Offers sound advice for achieving both financial success and developing areas of your life that will truly make a difference in retirement..." Chicago Tribune"Some books slice through the media noise with clarity. Get a Life is one of them. Its author advises a life-enriching retirement plan." Fort Worth Star-Telegram"If you're in your 40s or 50s and find yourself spending too much time worrying about how many hundreds of thousands (or millions) you will need to retire, I have a suggestion. Do what I did... Put in a rush order for [Warner's] book Get a Life." Scott Burns, Houston Chronicle "This inspirational book discusses how people can have a successful retirement without a lot of money as long as they have strong relationships, decent health and absorbing activities to keep them going." Liz Pulliam Weston, Los Angeles Times"One of the best retirement books to come out in recent years... puts money and the other essentials of retirement life in its place." Linda Stern, Reuters "Those who really want to retire can figure out ways to live that will cut their expenses while enhancing their experience of life." San Antonio Express-News "Hard work and a lifetime of savings are the prescription for a good retirement, right? Think again..." U.S. News & World Report
or
Not Currently Available for Direct Purchase