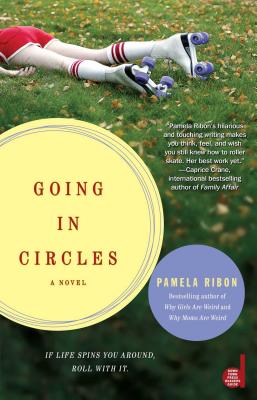 Going in Circles (Paperback)
Gallery Books, 9781416503866, 336pp.
Publication Date: April 20, 2010
Other Editions of This Title:
Mass Market (4/20/2010)
* Individual store prices may vary.
Description
Charlotte Goodman has had enough surprises.

In fact, she reached her life's quotient when her husband of five months walked out on her, only to abruptly change his mind a few weeks later and move back in. Stung by a whiplash of grief, resentment, and confusion, Charlotte calls a time-out, taking a small apartment where she can figure out what she wants. Instead, the thought of making even the simplest choices triggers an anxiety attack. In order to get out of bed in the morning, she must concoct a to-do list for each day, The Plan, one with absolutely no surprises.


"Without The Plan, horrible things can happen. I'm likely to end up sitting on a curb beside a taco truck on Sunset Boulevard, crying over a carne asada burrito, wondering where my marriage went. I can't handle being the Weeping Burrito Girl."

Charlotte knows all this self-absorbed introspection isn't good for her, but she's running out of people to turn to, as seemingly everyone in her life is pressuring her to make an immediate decision about her future. Then her new friend Francesca—an impulsive, smartass co-worker—offers Charlotte salvation in the unlikeliest of places: the fast-paced, super-tough, bump-and-bruise-filled world of roller derby.

Sure, it's dangerous. Yeah, she could get hurt. But what's a little physical pain when healing your soul is at stake? The question is: whether she's on or off the track, will Charlotte be strong enough to stand on her own two feet?


About the Author
Pamela Ribon is a bestselling author, television writer and performer. A pioneer in the blogging world, her first novel, Why Girls Are Weird, was loosely based on her extremely successful website pamie.com. The site has been nominated for a Bloggie in Lifetime Achievement, which makes her feel old. Ribon created the cult sensation and tabloid tidbit Call Us Crazy: The Anne Heche Monologues, a satire of fame, fandom and Fresno. Her two-woman show, Letters Never Sent (created with four-time Emmy winner and Jay Leno Show favorite Liz Feldman) was showcased at the 2005 HBO US Comedy Arts Festival in Aspen. She has been writing in television for the past seven years, in both cable and network, including on the Emmy-award winning Samantha Who? starring Christina Applegate. Using her loyal Internet fan base, Ribon sponsors book drives for libraries in need. Over the years, pamie.com has sent thousands of books and materials to Oakland and San Diego, sponsored a Tsunami-ravaged village of schoolchildren, and helped restock the shelves of a post-Katrina Harrison County, Mississippi. Ribon's book drive can now be found at DeweyDonationSystem.org, which has sponsored libraries from the Negril School in Jamaica to the Children's Institute in Los Angeles.
Discuss Charlotte's tendency to imagine John Goodman narrating her life as a way of coping. Is this method effective? What does it mean that she is ultimately able to shed his voice and live in the 'first person'?
In her first meeting with the psychiatrist, Charlotte insists, "Of course there's one right way. One way is wrong, and then there's one way that's right" (67). Does this prove to be true in the end? Which other characters might or might not agree with this statement? Do you agree with it?
Observing Petra's plastic surgery at one point, Charlotte notes that, "Petra is trying to freeze herself as an image that exists only in her head, and unfortunately she is losing this battle" (74). Do you think that Charlotte might be guilty of the same crime? What are the consequences of attempting to live in limbo?
Discuss Charlotte's assertion that the idea of 'soul mates' is depressing because it means that, "We're all just human puppets dancing on the invisible strings of an unknowable creator" (77). Do you agree or disagree?
When faced with the task of creating a pseudonym for herself, Charlotte claims that there is, "something intriguing about the concept of losing my real identity" (120). Discuss the ways in which this alter-ego in fact helped Charlotte regain her 'real' identity. What was particularly empowering about her experience as Hard Broken? What name would you choose for yourself?
Discuss Ribon's choice to make Matthew a character with Obsessive Compulsive Disorder. Do you see a larger theme of control recurring in the lives of other characters? Which ones? How so?
How does Jonathan's ability to salvage his marriage inform Charlotte's failure to do so? How are the two cases different? Similar?
In her description of a 'transition' in roller derby, Charlotte notes that, "When it's over, you're still skating in the same direction, but you're facing the other way. You're going forwards, facing backwards" (156). How is this process paralleled in her personal life?
Discuss the effect that both Charlotte's fight with Francesca and Andy's disappointment in her friendship have on helping Charlotte escape her overwhelming grief?
What is the significance of Charlotte's miniatures? How do they help her to find order amidst chaos? Why does Matthew's destruction of these miniatures lead to the destruction of their marriage? How does talking about this moment help Charlotte make her final decision?
Discuss the irony involved in Matthew's comment that the hallway light is out. How does it signify a finite end to the relationship for Charlotte?
In Francesca and Charlotte's debut in the rookie roller derby tournament, Charlotte is able to successfully deviate from the 'plan' and take the lead. How does this triumph mark a transition in her attitude towards life?