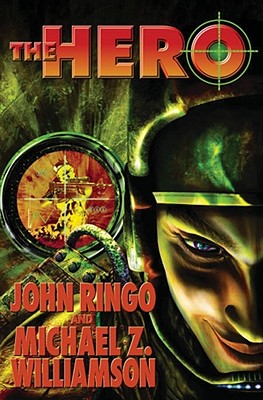 The Hero (Mass Market)
Baen, 9781416509141, 400pp.
Publication Date: November 1, 2005
Other Editions of This Title:
Hardcover (6/1/2004)
MP3 CD (8/2/2016)
* Individual store prices may vary.
Description
It's a matter of trust. For thousands of years the Darhel, a warrior species conditioned to be incapable of killing, manipulated and controlled the human race. Then the humans threw off their yoke. Now, for the first time, a Darhel has been assigned to the elite Deep Reconnaissance Team commandos. Trust, in a small unit, is vital. And there was no trust to be had on either side. But when the mission encountered an alien device worth more than a king's ransom, it was the humans who betrayed the trust. Now the despised Darhel must race against the team's sniper to prevent the artifact falling into the wrong hands. The Darhel has empathic powers, superhuman strength and the speed of a cheetah. The sniper has years of experience and enormous ability. The sniper can kill. The Darhel cannot. The fate of the galaxy and the human race for the next thousand years rests on the shoulders of a Darhel. The Hero has a thousand faces, but is one of them the face of an elf?
About the Author
John Ringo is author of the New York Times best-selling Posleen War series which so far includes A Hymn Before Battle, Gust Front, When the Devil Dances (New York Times best seller), and Hell's Faire (New York Times best seller), and is the hottest new science fiction writer since David Weber. A veteran of the 82nd Airborne, Ringo brings first-hand knowledge of military operations to his fiction. He had visited 23 countries and attended 14 schools by the time he graduated high school.
Michael Z. Williamson, an 18-year veteran of the US Army and US Air Force, is a state-ranked competitive shooter in combat rifle and combat pistol. As with John Ringo, Williamson's military experience gives him the first-hand knowledge to bring an adventure yarn to vivid life and keep it moving at a breakneck pace. Williamson's first novel for Baen was Freehold (January 2004). He has also written three action-suspense novels in the Target: Terror series for Harper-Collins, which will publish One Shot, One Kill; Scope of Justice; and By the Book in 2004.