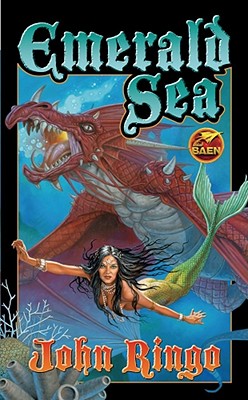 Emerald Sea (Mass Market)
Baen, 9781416509202, 656pp.
Publication Date: December 1, 2005
* Individual store prices may vary.
Description
The battle against those determined to rule the world-or destroy it-continues in the sequel to There Will be Dragons. Science fiction adventure by the author of the New York Times best sellers When the Devil Dances and Hell's Faire.

The fast-paced sequel to There Will be Dragons is a rollicking adventure above and below the high seas with dragons, orcas, beautiful mermaids-and the irrepressible Bast the Wood Elf, a cross between Legolas and Mae West. Duke Edmund Talbot has been assigned a simple mission: Go to the Southern Isles and make contact with the scattered mer-folk-those who, before the worldwide collapse of technology, had altered their bodies in the shape of mythical sea-dwelling creatures. He must convince them to side with the Freedom Coalition in the battles against the fascist dictators of New Destiny. Just a simple diplomatic mission. That requires the service of a dragon-carrier and Lieutenant Herzer Herrick, the most blooded of the Blood Lords. Because New Destiny has plans of its own.
About the Author
John Ringo had visited 23 countries and attended 14 schools by the time he graduated high school. This left him with a wonderful appreciation of the oneness of humanity and a permanent aversion to foreign food. A veteran of the 82nd Airborne, he brings first-hand knowledge of military operations to his fiction. His novels for Baen include There Will be Dragons, the prequel to Emerald Sea, the four novels in the New York Times best-selling Posleen Invasion series (A Hymn Before Battle, Gust Front, When the Devil Dances, and Hell's Faire), and three collaborations with New York Times bestselling author David Weber (March Upcountry, March to the Sea, March to the Stars and We Few).
or
Not Currently Available for Direct Purchase