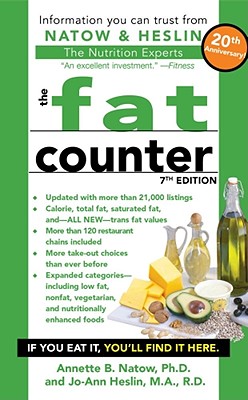 The Fat Counter (Mass Market)
7th Edition
Pocket Books, 9781416509868, 816pp.
Publication Date: December 30, 2008
* Individual store prices may vary.
Description
Is fat good for you? Is fat bad? Should you be eating more, or les?

Fat in moderation is healthy. The key is to choose wisely. With over one million satisfied readers, The Fat Counter, from nationally recognized nutrition experts Annette Natow and Jo-Ann Heslin, will help you select the best fats, avoid the bad fats, and guide you toward eating just the right amount to help you reduce your risk for heart disease, stroke, high blood pressure, high cholesterol, cancer, obesity, and possibly even Alzheimer's disease.

Celebrating 20 years in print, this easy-to-use, completely revised and updated counter features:

- Calorie, total fat, saturated fat, and trans fat values for more than 21,000 foods -- including more than 120 national and regional restaurant chains

- The most comprehensive listing of trans fat values available

- The most complete guide to healthy and unhealthy fats

- Worksheets and tables to help you decide how much and what kind of fat to eat
About the Author
Annette B. Natow, Ph.D., C.D.N., and Jo-Ann Heslin, M.A., R.D., C.D.N. are the authors of thirty books on nutrition, including two college textbooks. Both are former faculty members of Adelphi University and the State University of New York, Downstate Medical Center. They were the editors of the Journal of Nutrition for the Elderly for 23 years and serve as editorial board members for Environmental Nutrition Newsletter, Vitality, and American Baby Magazine.

For more information on Annette B. Natow and Jo-Ann Heslin, plus articles and advice, go to: www.thenutritionexperts.com.

Jo-Ann Heslin, MA, RD, is a professionally trained, registered dietitian and also a regular columnist for HealthNewsDigest.com. She is the coauthor of more than thirty books on nutrition. For more information, visit: TheNutritionExperts.com.
or
Not Currently Available for Direct Purchase