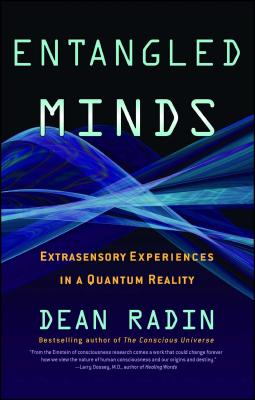 Entangled Minds
Extrasensory Experiences in a Quantum Reality
Paperback

* Individual store prices may vary.
Description
Is everything connected? Can we sense what's happening to loved ones thousands of miles away? Why are we sometimes certain of a caller's identity the instant the phone rings? Do intuitive hunches contain information about future events? Is it possible to perceive without the use of the ordinary senses?

Many people believe that such "psychic phenomena" are rare talents or divine gifts. Others don't believe they exist at all. But the latest scientific research shows that these phenomena are both real and widespread, and are an unavoidable consequence of the interconnected, entangled physical reality we live in.

Albert Einstein called entanglement "spooky action at a distance" -- the way two objects remain connected through time and space, without communicating in any conventional way, long after their initial interaction has taken place. Could a similar entanglement of minds explain our apparent psychic abilities? Dean Radin, senior scientist at the Institute of Noetic Sciences, believes it might.

In this illuminating book, Radin shows how we know that psychic phenomena such as telepathy, clairvoyance, and psychokinesis are real, based on scientific evidence from thousands of controlled lab tests. Radin surveys the origins of this research and explores, among many topics, the collective premonitions of 9/11. He reveals the physical reality behind our uncanny telepathic experiences and intuitive hunches, and he debunks the skeptical myths surrounding them. Entangled Minds sets the stage for a rational, scientific understanding of psychic experience.
Praise For Entangled Minds: Extrasensory Experiences in a Quantum Reality…
"From the Einstein of consciousness research comes a work that could change forever how we view the nature of human consciousness and our origins and destiny." -- Larry Dossey, M.D., author of Healing Words

"Dean Radin brings parapsychology into mainstream science. The revolution has begun." -- Deepak Chopra, author of The Book of Secrets: Unlocking the Hidden Dimensions of Your Life
Paraview Pocket Books, 9781416516774, 368pp.
Publication Date: April 25, 2006
About the Author
Dean Radin, Ph.D., is Laboratory Director at the Institute of Noetic Sciences in Petaluma, California. He worked at AT&T Bell Laboratories and GTE Laboratories on advanced telecommunications systems, and for nearly two decades he has conducted research on psychic phenomena in academia (Princeton University, University of Edinburgh, University of Nevada), and in three Silicon Valley think tanks (Interval Research Corporation, Boundary Institute, and SRI International). At SRI he served as a scientist on a highly classified program investigating psi phenomena for the U.S. government. Radin is the author of The Conscious Universe, which was a #1 parapsychology bestseller at Amazon.com. It also won the 1997 Book Award from The Scientific and Medical Network, a Best Book Award from The Anomalist, and it has been translated into eight languages.