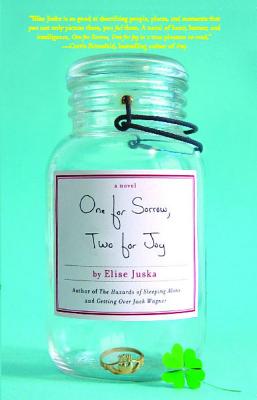 One for Sorrow, Two for Joy
Paperback

* Individual store prices may vary.
Description
For two quietly unhappy years, linguist Claire Gallagher has been living deep in the New Hampshire woods, enduring a polite but strained marriage to a highly respected scientist. Once a determined overachiever and academic star in her own right, she now spends her days avoiding her stalled dissertation and creating EZ crossword puzzles. But for all Claire's knowledge of words and their meanings, the meaning in her own life eludes her. One bleak morning in winter, she announces that she's leaving.

By nightfall, at the urging of her younger sister Noelle, Claire finds herself heading to the last place she thought she would ever go: Ireland -- the birthplace of her abrasive, chronically ill mother and the country Noelle, a college dropout, now calls home. In a small town on the Irish coast, Claire's struggle to move ahead with her life takes her deep into the puzzles of her past -- in a world in which there are no simple answers, and the only questions that matter are those of the heart.
Praise For One for Sorrow, Two for Joy…
"Elise Juska is so good at describing people, places, and moments that you not only picture them, you feel them. A novel of heart, humor, and intelligence, One for Sorrow, Two for Joy is a true pleasure to read."
-- Curtis Sittenfeld, bestselling author of Prep

"With pen-not-pencil confidence and skill, Elise Juska has deftly crafted the puzzle of a crossword creator's struggle to understand the mysteries of family, love, and self worth."
-- Suzanne Strempek Shea, author of Becoming Finola

"Elise Juska has written a wry, wise, and heartfelt novel about the ways in which we grieve. Her characters are rich with the kind of complications that make a novel sing. Juska's passion for language, and for the ways in which it tries, and sometimes fails, to represent who we are, give this lovely book a resonance that crosses not only family lines, but geographical borders, too."
-- Marisa Silver, author of No Direction Home
Gallery Books, 9781416516927, 288pp.
Publication Date: June 5, 2007
About the Author
Elise Juska's short stories have appeared in many magazines, including The Hudson Review, Harvard Review, Salmagundi, Black Warrior Review, Calyx, and The Seattle Review. She teaches fiction writing at The New School in New York City and The University of the Arts in Philadelphia. Her first novel, Getting Over Jack Wagner, is available from Downtown Press.
Visit the author's website: www.elisejuska.com.