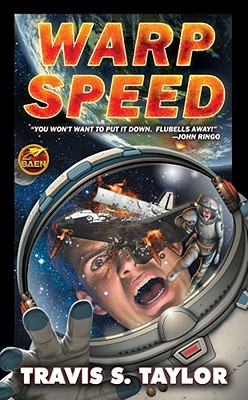 Warp Speed
Mass Market

* Individual store prices may vary.
Other Editions of This Title:
Hardcover (12/1/2004)
Description
Dr. Neal Anson Clemons, brilliant physicist and martial arts expert, was born at the very moment that men first landed on the moon, and his dream had always been to find a way to travel to the stars. And now he and his team have achieved a breakthrough, both in building a warp drive, and finding a new energy source powerful enough to make the drive more than an interesting theoretical concept. With the help of a beautiful Air Force Major and astronaut, Tabitha Ames, the US Government has funded the project, including assembly in orbit of the first faster-than-light probe. Unfortunately, forces working behind the scenes have much darker dreams, and they do not hesitate to blow up a space shuttle, attempt to kill Neal and Tabitha, and use the stolen warp technology to start what they expect to be a short victorious war with the United States. But Neal has ideas for using warp drive completely unsuspected by America's enemies, and repelling the all-out attack is only the beginning of a titanic struggle to reach the stars.
Baen, 9781416520634, 384pp.
Publication Date: May 1, 2006
About the Author
Travis S. Taylor-"Doc" Taylor to his friends-has earned his soubriquet the hard way: He has a Doctorate in Optical Science and Engineering, a Master's degree in Physics, a Master's degree in Aerospace Engineering, all from the University of Alabama in Huntsville; a Master's degree in Astronomy, and a Bachelor's degree in Electrical Engineering from Auburn University. Dr. Taylor has worked on various programs for the Department of Defense and NASA for the past sixteen years. He's currently working on several advanced propulsion concepts, very large space telescopes, space-based beamed energy systems, and next generation space launch concepts. In his copious spare time, Doc Travis is also a black belt martial artist, a private pilot, a SCUBA diver, has raced mountain bikes, competed in triathlons, and has been the lead singer and rhythm guitarist of several hard rock bands. He currently lives with his wife Karen, two dogs Stevie and Wesker, and his two cats Neko and Kuro, in north Alabama.