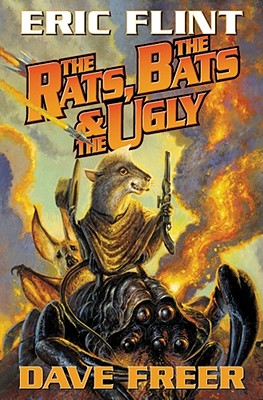 The Rats, the Bats & the Ugly (Mass Market)
Baen, 9781416520788, 560pp.
Publication Date: August 1, 2006
* Individual store prices may vary.
Description
The intrepid team of mentally uplifted rats and bats, and their vat-born human leader had not only pulled off the only victory the beleaguered colony's feeble military forces had won against the invading aliens, but had also uncovered the secret that the invaders were really a feint, being under the control of the other aliens which the naive humans had thought were their allies. Unfortunately, that was the easy part, because now they had to convince their boneheaded military bureaucracy (burdened with incompetents and riddled with quisling humans) of their discovery, and keep from being court-martialed, drugged into submission, or executed by the human traitors. And they had to do this quickly, before the aliens launched their surprise attack. Fortunately, they had found a way around the alien's mental programming. What's more, the daring and resourceful Fluff, apparently the ineffectual pet of one of the colony's ruling class, was on their side. Only Fluff can save us now. . . .
About the Author
Eric Flint is a popular new star of SF and fantasy. His latest novel in his popular alternate history series, 1634: The Galileo Affair (with Andrew Dennis) was a New York Times best seller. His first novel for Baen, Mother of Demons, was picked by SF Chronicle as a best novel of the year. His 1632, which launched the major alternate history series, sold out in hardcover almost immediately, followed by multiple printings in paperback. He currently resides in northwest Indiana with his wife Lucille.
Dave Freer, author of The Forlorn and A Mankind Witch (both Baen) and of many articles in scientific journals, is an expert on sharks, an accomplished rock-climber, a wine-taster, and was an unwilling conscript in the "undeclared" South African-Angolan war. He lives in Natal, South Africa with his wife Barbara, two sons, and several Old English sheepdogs.
or
Not Currently Available for Direct Purchase