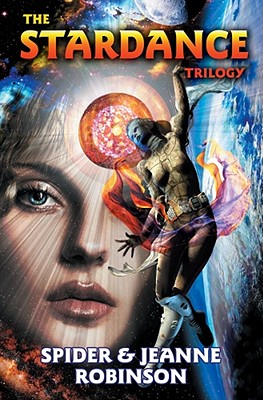 The Stardance Trilogy
Hardcover

* Individual store prices may vary.
Description
Three novels complete in one volume.
Stardance: Shara Drummond was a gifted dancer and a brilliant choreographer, but could not pursue her dream of dancing on Earth, so she went to space, creating a new art form in three dimensions. And when the aliens arrived, there was only one way to prove that the human race deserved not just to survive, but to reach the stars. The only hope was Shara, with her stardance.
Starseed: Years later, another dancer of genius faced the end of her career when her body failed her, and Rain McLeod followed Shara into space. If she joined with a symbiotic lifeform that would let her live without artificial protection in the vacuum of space, she would take a quantum leap in human evolution.
Starmind: Rand Porter has been offered the job of a lifetime, as a shaper of visual effects and music for the world's most famous zero-gravity dance company in High Orbit. But his beloved novelist wife Rhea Paixao has her roots sunk deep in the Earth, in her beloved Cape Cod. And as they wrestle with their private dilemma, bizarre things-small miracles-are beginning to occur everywhere on Earth and throughout the entire Solar System. The human race-and its evolutionary successors, the space-dwelling Stardancers-find themselves approaching the terrifying cusp of their shared destiny, an appointment made for them a million years ago, a make-or-break point beyond which nothing, anywhere, can ever be the same again.
Baen Books, 9781416520825, 742pp.
Publication Date: September 1, 2006
About the Author
Award-winning author Spider Robinson is renowned for his "Callahan's Place" series of bestselling novels, the latest being Callahan's Con (Tor). With his wife, Jeanne, he has written the Hugo- and Nebula-winning "Stardance" series (Baen), now complete in one volume for the first time. He has been a favorite with readers from his earliest stories, which won him the John Campbell Award for best new writer. Since then he has garnered many other awards for his amusing, Heinlein-inspired SF, with the current total at three Hugos and a Nebula Award. He is frequently a guest at SF conventions across the US and Canada. His last book for Baen was the novel Lady Slings the Booze, an offshoot of the Callahan series.
or
Not Currently Available for Direct Purchase