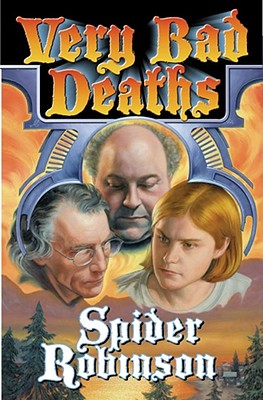 Very Bad Deaths (Mass Market)
Baen, 9781416520832, 352pp.
Publication Date: September 1, 2006
* Individual store prices may vary.
Description
Aging baby-boomer Russell Walker wants only to retreat from the world and the shattering death of his beloved wife, into the woods of British Columbia. But the real world won't let him become a hermit. Instead, he finds himself thrust into the mystery of a series of mass murders by a monstrous sadist and serial killer who makes Hannibal Lector look like a boy scout. And he is caught in a frightening predicament: He is the only possible intermediary between a telepath called Smelly, so sensitive he can't stand to be near most people, and a skeptical police officer who needs to hear and believe what Smelly knows about the fiend. This involuntary trio may be the only ones who can catch the inhuman butcher before he kills again-if he doesn't catch them first.
About the Author
Award-winning author Spider Robinson is renowned for his "Callahan's Place" series of bestselling novels, the latest being Callahan's Con (Tor). With his wife, Jeanne, he has written the Hugo- and Nebula-winning "Stardance" series (Baen). He has been a favorite with readers from his earliest stories, which won him the John Campbell Award for best new writer. Since then he has garnered many other awards for his amusing, Heinlein-inspired SF, with the current total at three Hugos and a Nebula Award. He is frequently a guest at SF conventions across the US and Canada. His last book for Baen was the novel Lady Slings the Booze, an offshoot of the Callahan series.
or
Not Currently Available for Direct Purchase