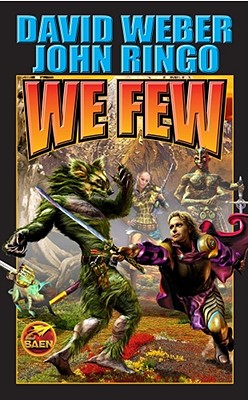 We Few (Prince Roger #4)
Mass Market

* Individual store prices may vary.
Other Editions of This Title:
Digital Audiobook (6/26/2005)
MP3 CD (7/1/2005)
Compact Disc (7/1/2005)
Hardcover (4/5/2005)
Audio Cassette (7/1/2005)
Description
Prince Roger MacClintock was an heir to the galaxy's Throne of Man-and a self-obsessed spoiled young brat . . . until he and the Royal Marines sent to protect him were stranded on Marduk with only their feet to get them half way around the entire planet. So far, they've traversed a continent, crossed a sea full of ship-eating monsters, taken over an enemy spaceport, and hijacked a starship. But they're not home-free yet, because home is no longer free. In Roger's absence, a palace coup by enemies of the MacClintock family has seized control of the Empire. His mother the Empress is a captive in the palace and even in her own body, drugged so that her will is not her own. Roger's bother, the heir to the throne, is dead. And Roger himself has been branded an outlaw and traitor. Roger and his faithful band of human marines and native alien warriors have beaten the barbarian planet Marduk. Now they must re-conquer an interstellar empire. But they aren't about to give up, and with the help of those on the throne planet who are still loyal to the Empress they will infiltrate (under cover of a restaurant specializing in exotic Mardukan dishes, no less), they will make anyone who gets in their way (such as local mobsters who make the mistake of kidnapping Roger's fiancé) very sorry that they did, and they will not rest until the rightful ruler has been restored. Once again, a lot of power-hungry people are going to learn a hard lesson: You do not, ever, mess with a MacClintock!
Baen, 9781416520849, 576pp.
Publication Date: September 1, 2006
About the Author
John Ringo brings fighting to life. He is the creator of the Posleen Wars series, which has become a New York Times best-selling series with over one million copies in print. The series contains A Hymn Before Battle, Gust Front, When the Devil Dances, Hell's Faire, andEye of the Storm. In addition, Ringo has penned the Council War series. Adding another dimension to his skills, Ringo created nationally best-selling techno-thriller novels about Mike Harmon (Ghost, Kildar, Choosers of the Slain, Unto the Breach, A Deeper Blue, and, with Ryan Sear, Tiger by the Tail). His techno-thriller The Last Centurion was also a national bestseller. A more playful twist on the future is found in novels of the Looking-Glass series: Into the Looking Glass, Vorpal Blade, Manxome Foe, and Claws That Catch, the last three in collaboration with Travis S. Taylor. His audience was further enhanced with four collaborations with fellow New York Times best-selling author David Weber: March Upcountry, March to the Sea, March to the Stars and We Few. There are an additional seven collaborations from the Posleen series: The Hero, written with Michael Z. Williamson, Watch on the Rhine, Yellow Eyes and The Tuloriad, all written with Tom Kratman, and the New York Times best seller Cally's War and its sequels Sister Time and Honor of the Clan, all with Julie Cochrane. His science-based zombie apocalypse Black Tide Rising series includes Under a Graveyard Sky, To Sail a Darkling Sea, Islands of Rage and Hope and Strands of Sorrow. A veteran of the 82nd Airborne, Ringo brings first-hand knowledge of military operations to his fiction.
or
Not Currently Available for Direct Purchase