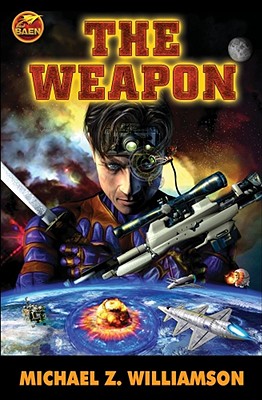 The Weapon
Mass Market

* Individual store prices may vary.
Other Editions of This Title:
MP3 CD (5/17/2016)
Description
Kenneth Chinran was a disaffected youth who joined the military and was recruited for an elite deep cover unit, shrugging off training and exercises so tough that several of the recruits did not survive. Then he was sent by his star nation to infiltrate a fascistic, militaristic planet¿Earth. He lived in deep cover for years, marrying and having a daughter. Then the Earth forces attacked his home system, and he and his team came out of hiding, attacking and destroying the infrastructure of the crowded planet, disabling transportation and communications in city after city. As a result of his attacks, billions died for lack of the food, water and power which the ravaged system could no longer supply. His sabotage was successful, but the deaths of so many weighs heavily on his mind, making him wonder if he can stay sane. Then the secret police discovered his identity. With his daughter, the only thing in his life that had so far kept him human, he was on the run, while the resources of a planetwide police state were tracking him down. He could see no way to escape from the planet, no way to keep hiding, and if he and his daughter were caught, death was the very least that they could expect. But Chinran is a warrior to the core, and even if he loses this last battle, he won¿t go down without a fight that his pursuers¿the ones who survive¿will never forget
Baen, 9781416521181, 656pp.
Publication Date: March 27, 2007
About the Author
Michael Z. Williamson was born in Birkenhead, England and raised in Liverpool, and Toronto, Canada, before moving to Columbus, Ohio. An 18-year veteran of the US Army and US Air Force, he is a state-ranked competitive shooter in combat rifle and combat pistol. His other books include Freehold (Baen), the Target Terror series for Harper-Collins, so far including Targets of Opportunity and The Scope of Justice, and The Hero, a collaboration with New York Times best-selling author John Ringo for Baen. He currently lives in Indianapolis with his wife Gail, their two children, and various cats that are not to be trusted.
or
Not Currently Available for Direct Purchase