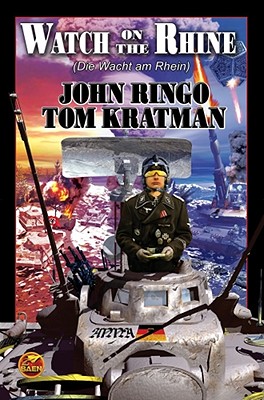 Watch on the Rhine (Posleen War) (Mass Market)
Baen, 9781416521204, 496pp.
Publication Date: February 27, 2007
Other Editions of This Title:
MP3 CD (8/2/2016)
* Individual store prices may vary.
Description
The invaders are coming¿the Posleen, a seemingly unstoppable horde who have conquered one star system after another, literally feeding on their conquests. Earth¿s dubious allies, the Darhel, have given the humans a number of highly-advanced technological devices, including a process for rejuvenating the aged, including trained and proven soldiers who otherwise would be too old to fight. Rejuvenation may give a critical edge, since to survive, the Earth must use every resource at hand. Every resource . . .
In the dark days after the initial Posleen attack, but before the primary invasion, the Chancellor of Germany faces a critical decision. Over the years, with military cutbacks, the store of experienced German military personnel had simply dwindled. After the destruction of Northern Virginia, he realized that it was necessary to tap the one group he had sworn never, ever, to recall: the few remaining survivors of the Waffen SS. Has he made a devil¿s bargain, or is this a chance for the reviled SS at last to fight the good fight? And, perhaps, gain redemption. . . ?
Watch On the Rhine, a new chapter in the New York Times best-selling Posleen War saga, is perhaps the most unbiased, and brutal, look at the inner workings of the Waffen SS in history. Meticulously researched, it explores all that was good, and evil, about the most infamous military force in history using the backdrop of the Posleen invasion as a canvas.
About the Author
John Ringo is author of the New York Times best-selling Posleen War series which so far includes A Hymn Before Battle, Gust Front, When the Devil Dances, and Hell¿s Faire, as well as the connected novels Cally¿s War (with Julie Cochrane), The Hero (with Michael Z. Williamson), and Watch on the Rhine (with Tom Kratman), and is the hottest new science fiction writer since David Weber. A veteran of the 82nd Airborne, Ringo brings first-hand knowledge of military operations to his novels of high-tech future war.
Tom Kratman, in 1974 at age seventeen, became a political refugee and defector from the PRM (People's Republic of Massachusetts) by virtue of joining the Regular Army. He stayed a Regular Army infantryman most of his adult life, returning to Massachusetts as an unofficial dissident while attending Boston College after his first hitch. Tom is currently an attorney practicing in southwest Virginia. Baen published his first novel, A State of Disobedience and will soon publish his second collaboration with John Ringo, Yellow Eyes.
or
Not Currently Available for Direct Purchase