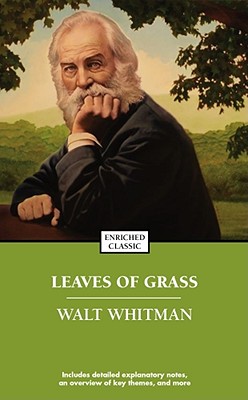 Leaves of Grass (Enriched Classics) (Mass Market)
Simon & Schuster, 9781416523710, 624pp.
Publication Date: August 1, 2006
Other Editions of This Title:
Paperback (9/9/2014)
Paperback (4/16/2016)
Paperback (4/12/2014)
Paperback (4/11/2014)
Paperback (2/21/2014)
Paperback (6/30/2005)
Paperback (5/23/2016)
Paperback (7/19/2016)
Paperback (7/3/2018)
* Individual store prices may vary.
Description
ENDURING LITERATURE ILLUMINATED BY PRACTICAL SCHOLARSHIP

A collection of quintessentially American poems, the seminal work of one of the most influential writers of the nineteenth century.

THIS ENRICHED CLASSIC EDITION INCLUDES:
A concise introduction that gives readers important background information
A chronology of the author's life and work
A timeline of significant events that provides the book's historical context
An outline of key themes and plot points to help readers form their own interpretations
Detailed explanatory notes
Critical analysis, including contemporary and modern perspectives on the work
Discussion questions to promote lively classroom and book group interaction
A list of recommended related books and films to broaden the reader's experience
Enriched Classics offer readers affordable editions of great works of literature enhanced by helpful notes and insightful commentary. The scholarship provided in Enriched Classics enables readers to appreciate, understand, and enjoy the world s finest books to their full potential.
SERIES EDITED BY CYNTHIA BRANTLEY JOHNSON
About the Author
Walt Whitman (1819-1892), arguably one of America's most influential and innovative poets, was born into a working-class family in West Hills, New York, and grew up in Brooklyn. His Leaves of Grass, from which "When I Heard the Learn'd Astronomer" comes, is considered one of the central volumes in the history of world poetry. While most other major writers of his time enjoyed a highly structured, classical education at private institutions, Whitman forged his own rough and informal curriculum, and his brief stint at teaching suggests that Whitman employed what were then progressive techniques -- encouraging students to think aloud rather than simply recite, and involving his students in educational games.
or
Not Currently Available for Direct Purchase