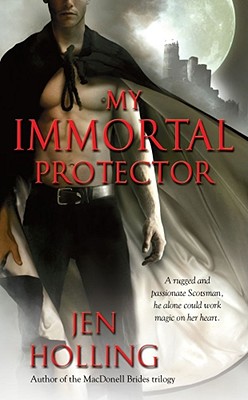 My Immortal Protector (Mass Market)
Pocket Books, 9781416525851, 368pp.
Publication Date: February 26, 2008
* Individual store prices may vary.
Description
From acclaimed author Jen Holling comes the captivating and sensual story of Deidra MacKay, a reluctant witch who would do anything to give up her powers -- until she meets a darkly handsome man who may give her reason to use them...

A fiery witch able to communicate with animals, Deidra MacKay longs to relinquish her powers -- they bring her nothing but misfortune and danger. So when she learns that years ago, her ancestors signed a blood pact with a vampire, cursing the MacKay clan with witchcraft, she presumes that a member of the undead can also take her magic away. So she embarks on a quest to find the one who can hopefully ease her misery.

An embittered and crippled Scotsman, Stephen Ross lives as a recluse -- hiding from the world in a dreary castle. But when the intriguing and adorable Deidra arrives at his door hoping he is a vampire, he is intoxicated and aroused by her company. He joins her on her journey, hoping a vampire's magic might also heal his wounds -- and soon finds himself enraptured in the heat of passion with Deidra, an affair that could put both their lives at stake.
About the Author
Jen Holling's previous romance novels include My Shadow Warrior,
My Devilish Scotsman, My Wicked Highlander, Forever My Lady,
A Time for Dreams, and the critically acclaimed and RITA Award-nominated
Brides of the Bloodstone trilogy: Tempted by Your Touch, Tamed by Your
Desire, and Captured by Your Kiss. She lives in Texas and is currently
at work on her next novel. Visit her on the web at www.jenholling.com or email
jen@jenholling.com.
or
Not Currently Available for Direct Purchase