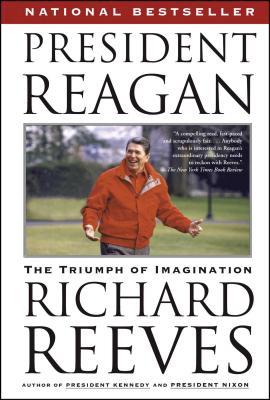 President Reagan: The Triumph of Imagination (Paperback)
The Triumph of Imagination
Simon & Schuster, 9781416531913, 571pp.
Publication Date: December 1, 2006
* Individual store prices may vary.
or
Not Currently Available for Direct Purchase
Description
Richard Reeves's acclaimed account of a presidency solves the puzzle of Ronald Reagan -- a man of limited breadth and knowledge who was perhaps the most effective superpower president. Using the techniques he employed in his bestselling books on Presidents Kennedy and Nixon, Reeves takes us inside Reagan's Oval Office, where we find a charismatic, crafty, focused politician. Astonishing in its intimacy, authoritative in its sourcing, President Reagan is a portrait of modern presidential power that will stand as the definitive study of Reagan in the White House.
Praise For President Reagan: The Triumph of Imagination…
"A compelling read, fast-paced and scrupulously fair. . . . Anybody who is interested in Reagan's extraordinary presidency needs to reckon with Reeves."

-- The New York Times Book Review




"Illuminating. . . . Readers are in Reeves's debt for this entertaining, deeply reported and revealing portrait of a man destined to be in death what he was in life: a figure of enduring fascination."

-- Jon Meacham, The Washington Post Book World



"An invaluable contribution to our understanding of the man and his times."

-- Terry Golway, New York Observer




"Reeves's President Reagan is different. It is a cogent, evenhanded, in-depth examination of the Reagan presidency. . . . A fitting reminder of a presidency that changed the world."

-- Deirdre Donahue, USA Today



"Long one of America's finest political journalists, Richard Reeves's books about John Kennedy, Richard Nixon and now Ronald Reagan are indispensable reading for anyone interested in the modern U.S. presidency."

-- Philip Seib, The Dallas Morning News



"Marvelous. . . . Master political journalist Richard Reeves . . . spins a fly-on-the-wall, at times day-by-day, tale of the power of one man's imagination."

-- Marc Schogol, The Philadelphia Inquirer
Advertisement