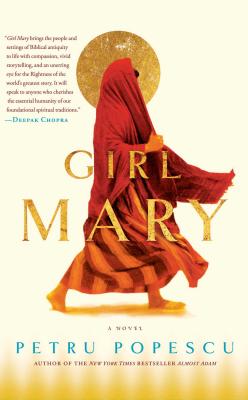 Girl Mary (Paperback)
Simon & Schuster, 9781416532637, 356pp.
Publication Date: September 8, 2009
* Individual store prices may vary.
or
Not Currently Available for Direct Purchase
Description
A hauntingly beautiful novel, bringing to life one of history's most mysterious characters, Mary of Nazareth, as a beautiful, complicated, utterly believable girl in love. - In a bestselling tradition: Paulo Coelho's The Alchemist, Anita Diamant's The Red Tent, Francois Mauriac's A Kiss for the Leper, and Orson Scott Card's Sarah all present biblical themes through the sensibilities of today. Girl Mary will similarly captivate readers of all faiths and backgrounds. - A great character: For centuries, Mary has been the Virgin--but isn't she also the ultimate female, whose life and passion have never been told? Girl Mary introduces us to the human girl who beguiled even God with her simplicity. So what exactly is Girl Mary? Answers the author: it's a love story of biblical proportions. - Great storytelling: Petru Popescu recounts this epic through the eyes of famous characters. Pontius Pilate, already Rome's agent in Judea at the time, meets Mary and falls under her spell. Years before the massacre of the innocents, King Herod senses that Mary signals the end of his reign. Other heroes of the scriptures appear in Girl Mary at their very debut in history. Described with surreal accuracy, Judea and Rome become the birthplace of Christianity.
About the Author
Petru Popescu was Romania's leading young author when he immigrated to the United States in 1974. He has distinguished himself as the New York Times bestselling author of the novels Amazon Beaming and Almost Adam and the critically acclaimed memoirs The Return and The Oasis. Petru Popescu lives in Beverly Hills, California, with his wife Iris and children Chloe and Adam.
Praise For Girl Mary…
"[Popescu] brings this turbulent age to vibrant life with sympathetic characters, both minor and major." -- Kirkus



"Girl Mary brings the people and settings of Biblical antiquity to life with compassion, vivid storytelling, and an unerring eye for the Rightness of the world's greatest story. It will speak to anyone who cherishes the essential humanity of our foundational spiritual traditions." -- Deepak Chopra



"In this novel Petru Popescu's literary imagination will stimulate the reader's interest in religious and historical events." -- Elie Wiesel, author of Night



"With deep research and masterful storytelling, Petru Popescu brings the worlds of Augustan Rome and Judea to triumphant life. Mary is an exquisitely nuanced creation: scrappy, inquisitive, lovable...An unforgettable story." -- Blake Bailey, author of Cheever: A Life



"A powerful book, in which history, legend, and the contemporary world merge in the best tradition of Mikhail Bulgakov." -- Radu Ioanid, author of The Ransom of the Jews



"Petru Popescu has written a remarkable and compelling novel about one of the most enigmatic and revered figures in history.... Popescu has given us a Mary with an earthy and sensual presence.... A marvelous and inspired read." -- Dr. Jeffrey S. Siker, Chair of Theological Studies, Loyola Marymount University



"How thrilling to meet this enigmatic religious icon face to face, to experience her power, simplicity, honesty, devotion, and courage, her moments of fear.... This Mary is feisty, strong willed, passionate and very much in love. How bold!" -- Barbara Dana, author of Young Joan and A Voice of Her Own: Becoming Emily Dickinson



"Petru Popescu provides a moving, vivid and psychologically astute look at the events leading up to the birth of Jesus.... This book is a triumph." -- Dennis Palumbo, author of Writing From the Inside Out



"A deeply moving, lyrical novel...Popescu's deep scholarship adds authenticity to his description of life in first century Palestine, and his vivid portrayals of biblical figures such as Pontius Pilate, Herod and Joseph echo with the ring of historical truth." -- Kamran Pasha, author of Mother of the Believers



"[Popescu] is a storyteller of the highest order. Girl Mary speaks of faith and love with insight, affection and humor." -- Caldecott Chubb, producer, Eve's Bayou
Advertisement