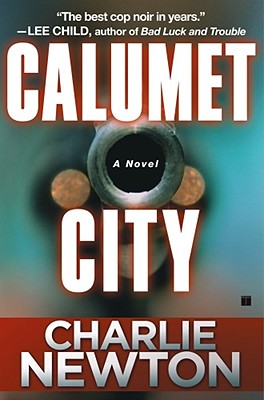 Calumet City
Paperback

* Individual store prices may vary.
Description
Among the most self-assured and sharply crafted debuts in recent years, Calumet City detonates a Molotov cocktail of character-driven suspense and ghetto-Chicago intrigue.
Meet Patti Black, the most decorated cop in Chicago. On her ghetto beat, Patti Black redefines the word badass. But her steel-plated exterior -- solitary, stoic, loveless -- belies the wrenching legacy of her orphan childhood. Haunted by the horrifying abuse she suffered at the hands of her foster parents, Patti Black sublimates past torments into a meticulously maintained tough-gal persona.
When a series of unrelated cases -- a drug bust gone bad, a mayoral assassination attempt, the murder of a state attorney, the exhumation of a long-concealed body from a tenement basement wall -- all point in Patti Black's direction, she finds herself facing the dark truth: You can't hide from your history, no matter how far into the fog you run. For Patti Black, that history didn't die in the tenement wall; it's alive -- and riding her down.
In researching this electrifying thriller, Charlie Newton rode in the squad car with real-life street cop Patti Black. The result is a powerful fiction debut that captures the precise emotional landscape of one cop's hard-bitten life in the trenches. This first-time author joins that rare breed whose fiction is suffused with profound authenticity
Praise For Calumet City…
"A terrific modern noir on a raw Chicago cityscape harboring too many untold stories. If you try to set it down, this book will kick you in the teeth." -- Kevin Guilfoile, author of the Chicago Tribune bestseller Cast of Shadows



"A powerhouse debut. Packed with nonstop action and searing emotion, written in blistering prose, Calumet City marks Charlie Newton as a new force in suspense fiction." -- Jeff Abbott, author of Fear and Panic



"The best cop noir in years." -- Lee Child, author of Bad Luck and Trouble



"...those who relish tortured heroines, unrelenting intensity, and full-throttle races will snatch this one up." -Booklist, starred review



"Newton's absorbing debut novel...A galloping ride from first page to last."--Kirkus Reviews



"An atmospheric shocker...Newton certainly has all the hallmarks and above all the classic noir tone -- urban and nocturnal, stealthy and smoky, grim determination doing its two-step with gallows humor." -- Chicago Sun Times



"Newton's version of Patti Black is a potent mix of pain and toughness, vulnerability and adrenalin that anchors the book any time it threatens to careen out of control. She may be too damaged to return, but here's hoping for more from Newton." -- Baltimore Sun



"Raw, heart-pounding, adrenalin-producing fiction doesn't get much better than this." -- Library Journal
Touchstone, 9781416533221, 400pp.
Publication Date: March 4, 2008
or
Not Currently Available for Direct Purchase