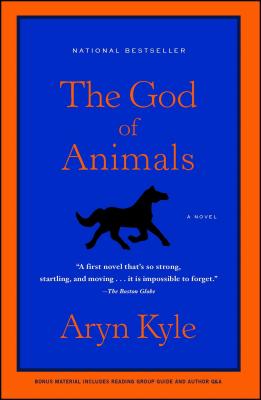 The God of Animals
A Novel
Paperback

* Individual store prices may vary.
Other Editions of This Title:
Digital Audiobook (3/19/2007)
Digital Audiobook (3/19/2007)
Paperback, Marathi (6/1/2011)
Description
From an award-winning and talented young novelist comes one of the most exciting fiction debuts in years: a breathtaking and beautiful novel set on a horse ranch in small-town Colorado.

When her older sister runs away to marry a rodeo cowboy, Alice Winston is left to bear the brunt of her family's troubles—a depressed, bedridden mother; a reticent, overworked father; and a run-down horse ranch. As the hottest summer in fifteen years unfolds and bills pile up, Alice is torn between dreams of escaping the loneliness of her duty-filled life and a longing to help her father mend their family and the ranch.

To make ends meet, the Winstons board the pampered horses of rich neighbors, and for the first time Alice confronts the power and security that class and wealth provide. As her family and their well-being become intertwined with the lives of their clients, Alice is drawn into an adult world of secrets and hard truths, and soon discovers that people—including herself—can be cruel, can lie and cheat, and every once in a while, can do something heartbreaking and selfless. Ultimately, Alice and her family must weather a devastating betrayal and a shocking, violent series of events that will test their love and prove the power of forgiveness.

A wise and astonishing novel about the different guises of love and the often steep tolls on the road to adulthood, The God of Animals is a haunting, unforgettable debut.
Praise For The God of Animals: A Novel…
"Aryn Kyle's stunning debut is a wry and moving look at a disappearing way of life...an astonishingly assured debut... powerfully understated, ruefully funny... it's early Annie Proulx to whom she bears particular comparison" -- Megan O'Grady, Vogue

"[A] first novel that's so strong, startling, and moving, that it's a thoroughbred from the first page... In stark, gorgeous prose, Kyle tunnels into the dark heart of the connections between people and place.... The God of Animals does what the best fiction does -- it creates a whole living, breathing world and unfolds it in front of us, granting us entry into a place that, like this author, is impossible to forget." -- Caroline Leavitt, The Boston Globe

"[A] beautiful first novel." -- Carolyn See, The Washington Post

"[An] involving and accomplished first novel... Kyle has a gift for creating character, for making even the most minor players in Alice's drama come alive on the page. And she ties up the strands of her plot in nervy and satisfying ways, so that nothing is predictable as The God of Animals twists and turns toward its conclusion. Aryn Kyle's debut delivers all the fun of the books about horses that you loved as a kid but with the added weight and seriousness of a novel for grown-ups." -- Francine Prose, People

"A memorable novel gracefully compares and contrasts the vast landscapes of the human condition -- people butting up against each other, their natural surroundings and, most significantly, themselves. To find these elements expertly handled in a debut novel -- as they are in The God of Animals-is reason for readers to rejoice." -- Carol Memmott, USA Today

"With her debut novel, Aryn Kyle seems poised to become one of America's next great authors." -- Parade

"Aryn Kyle is one of those handfuls of first-time novelists whose arrival trumpets what might be a major talent. Kyle's The God of Animals is a coming-of-age tale that manages to be both elegiac and hard-nosed. It's an impressive debut." -- Dorman Shindler, The Star Ledger

"In Aryn Kyle's affecting first novel, The God of Animals, the ordeals of horses believably reflect and frame the foolishness and suffering of their so-called masters....Kyle's writing is strong, and Alice's story sucks us into its stringent world, making us curious and worried...It's a tribute to Kyle's honest, unshowy writing that readers will want, with accelerating urgency, to find out what happens." -- The San Francisco Chronicle

"Kyle writes perceptively in Alice's voice, drawing the reader into the understated drama of this seminal summer in her life...the author paints an evocative portrait of the vast country in which her characters struggle. Raised in Colorado herself, Kyle knows well the territory of which she writes, from its mind-boggling beauty to the aftermath of drought and flooding. This captivating saga of a loving but dysfunctional family, melded with an ode to the harsh splendor of the West in the tradition of Kent Haruf's Plainsong, is surely the start of a promising career." -- Bookpage

"An impressive debut." -- The Seattle Post-Intelligencer
Scribner, 9781416533252, 336pp.
Publication Date: March 4, 2008
About the Author
Aryn Kyle is the author of the bestselling novel The God of Animals and a graduate of the University of Montana writing program. Her short stories have appeared in Ploughshares, The Georgia Review, Alaska Quarterly Review, Best New American Voices 2005, Best American Short Stories 2007, and The Atlantic Monthly, for which her story "Foaling Season" won a National Magazine Award. She is also the recipient of the American Library Association's Alex Award, the Rona Jaffe Foundation Writers'Award, and others. She lives in New York.