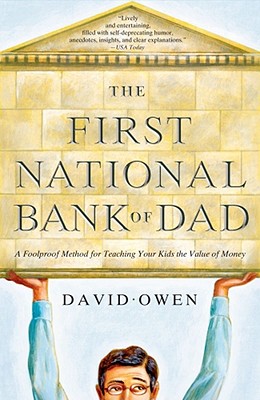 The First National Bank of Dad (Paperback)
A Foolproof Method for Teaching Your Kids the Value of Money
Simon & Schuster, 9781416534259, 208pp.
Publication Date: April 24, 2007
Other Editions of This Title:
Hardcover (1/14/2003)
* Individual store prices may vary.
Description
Every parent wants to raise financially responsible children, but often, any efforts to teach kids about money are doomed from the start. As David Owen learned with his own daughter and son, parents who take a traditional approach to talking about money will find that their children learn all the fiscal restraint of an Enron executive.

So Owen devised a novel approach: he established the Bank of Dad, offering simple terms and generous incentives for saving, and then stepped aside and gave his young children the freedom to use their money as they wanted. Instead of blowing it all on candy and toys, they developed a strong sense of financial discipline and responsibility. As they grew older, he added a stock exchange to the Bank of Dad to broaden their understanding of investing.

It sounds complicated, but it's not. His kids will have to work for a living someday, but they are well armed to meet their financial needs and responsibilities. They are avid savers; they know how to balance their checkbooks; they understand the principles of investing in stocks and bonds.

The First National Bank of Dad is a highly accessible guide that offers excellent financial tips for any family and shows readers just how to implement this unusual and innovative plan in their own households.
About the Author
David Owen plays in a weekly foursome, takes mulligans off the first tee, practices intermittently at best, wore a copper wristband because Steve Ballesteros said so, and struggles for consistency even though his swing is consistent -- just mediocre. He is a staff writer for The New Yorker, a contributing editor to Golf Digest, and a frequent contributor to The Atlantic Monthly. His other books include The First National Bank of Dad, The Chosen One, The Making of the Masters, and My Usual Game. He lives in Washington, Connecticut.
Praise For The First National Bank of Dad: A Foolproof Method for Teaching Your Kids the Value of Money…
"Lively and entertaining, filled with self-deprecating humor, anecdotes, insights, and clear explanations." -- USA Today

"Saving money . . . should be the child's choice. For an idea that might get your kids to a nest egg voluntarily, take a look at David Owen's book The First National Bank of Dad." -- Jane Bryant Quin, Newsweek

"When your children grow up, few things will affect their lives as much as the presence or absence of money. Unfortunately, most teachers and parents devote little systematic attention to teaching them how to live their economic lives. Start with this enjoyable book for some excellent suggestions." -- Pittsburgh Post-Gazette

"This is a terrific little book that could completely change the way many parents think about children and money." -- Publishers Weekly