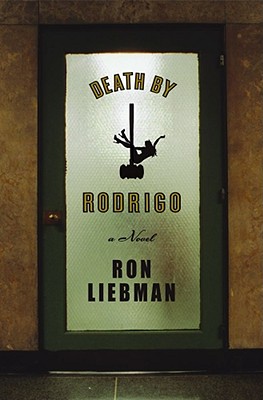 Death by Rodrigo
Hardcover

* Individual store prices may vary.
Description
A HILARIOUS NEW SERIES -- THINK JANET EVANOVICH MEETS MY COUSIN VINNY. When El Salvadoran crime boss Rodrigo Gonz lez is finally nabbed in Camden, New Jersey, for high-volume drug trafficking, he hires criminal defense attorneys Mickie Mezzonatti and Salvatore Junne Salerno, Jr. He's been told they're the best and that, as former Camden police officers, they know all the blind spots and loopholes (read: the ins and outs) of the local courts. All Rodrigo asks of Junne and Mickie is that they get him out on bond so he can jump bail and escape back to the comforts of El Salvador. Problem is, the judge denies bail. Soon Mezzonatti and Salerno are receiving a few unwelcome guests -- friends of Rodrigo -- asking questions. And the boys need to find answers, fast. Mickie and Junne have an enviable professional success rate. With their street smarts and learned-on-the-job courtroom skills, the blue-collar boys enjoy trouncing self-righteous, Ivy-educated district attorneys. But they also know when they need help. Like with Rodrigo. So they approach Professor Mumbles, a brilliant though eccentric former white-shoe lawyer who suffered a spectacular corporate burnout. As Junne and Mickie duck and dive to make Rodrigo's case (or at least fake it with Mumbles's help), they're also juggling their regular caseload -- like local drug lord Slippery Williams, whose badass nephew may have turned informant; and the gorgeous hooker Little Chip, whose prostitution bust leaves her pimp hopping mad. And through it all, the boys attempt to keep a happy home life. That's no sweat for Mickie, a natural Casanova, but it may prove to be trickier than Junne ever imagined. 'Cause he's got a secret. And if Rodrigo does not kill him, his family just might.... The first installment of a hilarious new series, Death by Rodrigo is a romp through the seamy side of criminal law by one of the foremost attorneys in America (who also has a wicked sense of humor).
Praise For Death by Rodrigo…
"Hey, what's not to love about Death by Rodrigo? You got your quirky characters, you got a story moving faster than a boosted Caddie on the Jersey 'Pike, you got side-splitting humor, you got a gritty look at life on the meanest of mean streets. We're talking fast and furious fun."
-- Jeffery Deaver, author of The Sleeping Doll



"Bravo, Ron Liebman! Death by Rodrigo re-creates the seamy underbelly of the criminal justice system with authenticity and a lot of laughs. The partnership of Mezzonatti and Salerno is about as far from white-shoe law firms as attorneys can get and still be part of the same profession. What a romp!"
-- Susan Isaacs, author of Past Perfect



"I really loved this book. I haven't laughed out loud on an airplane since I first read Janet Evanovich. What if Mark Twain had been born in southern New Jersey? What if he had gone to Cut-Rate Law School? What if Tom and Huck had been bottom-feeding lawyers? Then Mark Twain might have written this book and it might have been almost as funny."
-- Aaron Latham, author of The Urban Cowboy and Riding with John Wayne


"Death by Rodrigo is a raucous romp through the legal system. Two wisecracking buddies manage to make us like them and fear for their lives as they deal with some of the most disreputable characters on earth. Ron Liebman's legal prowess makes this very funny tale also very believable."
-- Cokie Roberts, political analyst, ABC News and NPR



"I loved Death by Rodrigo. It is perfect -- just what I wanted in a fast-paced, highly detailed, and riveting novel. Ron Liebman took me to the streets of Camden, New Jersey, in a way that only a great lawyer and truly gifted writer could do."
-- Wolf Blitzer, host of CNN's Late Edition and The Situation Room


"Death by Rodrigo is great. Ron Liebman's book is full of hilarious dialogue, unforgettable characters, and nail-biting moments. It was also very educational. I now have a clear legal plan should I ever get arrested in New Jersey on drug or prostitution charges. Now stop reading this blurb and buy the book."
-- Lisa Lutz, author of The Spellman Files


"Death by Rodrigo is both fun and funny...Mickie and Junne are a cross between Starsky and Hutch and Abbott and Costello...We care about them and can't wait until the judge calls their next case. Loud cheers for Death by Rodrigo!"
-- Robert G. Morvillo and Elkan Abramowitz, celebrated New York criminal defense attorneys


"Death by Rodrigo is a lively tale of two bottom-end criminal lawyers in Camden, New Jersey. Ron Liebman, a lawyer who knows his way around courthouses and jails, has an ear for dialogue and a wry sense of fun that draws you into the seamy world of Mickie Mezzonatti and Salvatore 'Junne' Salerno, two cops-turned-lawyers who have a way of taking on clients dangerous to their health."
-- George Stevens, Jr., award-winning filmmaker and founder of the American Film Institute



"It is very, very, very, ya know, funny."
-- Lesley Stahl, CBS News and 60 Minutes correspondent
Simon & Schuster, 9781416535270, 280pp.
Publication Date: September 11, 2007
or
Not Currently Available for Direct Purchase