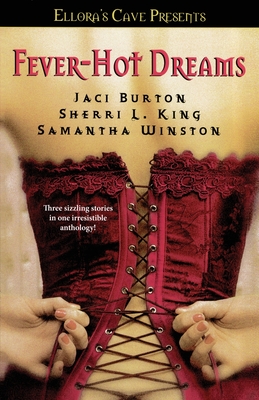 Fever-Hot Dreams (Paperback)
Ellora's Cave
Gallery Books, 9781416536017, 256pp.
Publication Date: February 6, 2007
* Individual store prices may vary.
Description
Jaci Burton
Dream On

When her husband Jack disappeared five years ago, Katie McKay was devastated -- left only to dream about the passionately erotic nights they spent together. So when Jack reappears one night without any explanation, looking as irresistible as ever, Katie tries to resist the undeniable spark that still burns between them. But after five long years alone, she can't help but give herself to the man of her wildest dreams.

Sherri L. King
Icarus

To escape the craziness of New York, poet Morrigan Mederos moves to Scotland to find peace and quiet and an end to her recurring nightmares. Instead, her dreams become more intense -- she meets a darkly handsome vampire who drinks her blood and arouses every inch of her body with fiery kisses. But soon her dreams become all too real -- and her brooding vamp wants to take her back to his homeworld to be his lover for all eternity.

Samantha Winston
Darla's Valentine

As a favor to her best friend Wendy -- aka showgirl Queenie Lovaday -- quiet, good-natured Darla agrees to fill in as a cake-popping temptress at a birthday party. And when she meets Jordan Severn, the smolderingly handsome guest of honor, she finds herself lusting for his perfectly chiseled body. But Jordan is engaged, so he should be off limits. Luckily he seems to desire Darla just as strongly....

Step inside Ellora's Cave, where passions run wild and the sexiest fantasies come true.... www.EllorasCave.com
About the Author
Jaci Burton is a bestselling, award winning author who lives in Oklahoma and spends a fair amount of time on the back of her husband's Harley, where she often gets lost plotting her next story as the warm (and sometimes cold) breeze whips her face. She loves reality television, is a sucker for romantic comedies, and completely loses track of time when reading a great book. She's a total romantic and longs for the happily ever after in every story, which you'll find in all her books.

Sherri L. King lives in the Deep South with her husband, artist and illustrator Darrell King. The critically acclaimed author of the Horde Wars and Moon Lust series, she loves writing action-packed paranormals.

Samantha Winston is the pen name for Jennifer Macaire, who was nominated for the Pushcart Prize and won the 3:A.M./HarperCollins flash fiction contest for a short story. She lives in France with her husband, a professional polo player, and her three children.