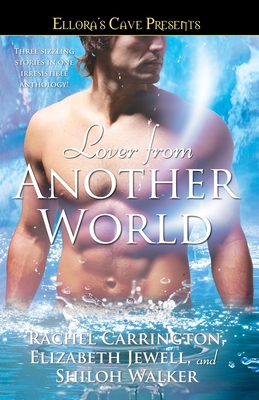 Lover from Another World (Paperback)
Ellora's Cave
Gallery Books, 9781416536123, 288pp.
Publication Date: March 20, 2007
* Individual store prices may vary.
Description
Three seductively sinful tales of lovers who are out of this world...

Rachel Carrington Her Lover's World

After two weeks of erotic dreams about wild nights spent with a darkly handsome lover, Anna meets him -- in the flesh -- in her apartment. Onyx tantalizes and teases her senses, leaving her clamoring for more. But Onyx has no time for love -- as the immortal king of a vanished world, he is fated to wander worlds and centuries in search of a new home for his people. But when he's with Anna, it's as if no one else exists -- and that passion is all he needs to survive.

Elizabeth Jewell Lady of the Seals

While swimming in a treacherous storm, Gilly, a seal who can shed her skin to become a beautiful woman, finds the lifeless body of David Fraser. Intrigued by this incredibly attractive man, she brings him to land and revives him with her passionate kisses and warm embrace. Soon they are spending their days blissfully in each others' arms. But as a creature of the sea, Gilly cannot give herself to any man -- unless David can find a way to keep her with him forever.

Shiloh Walker Voyeur

To fulfill his wife Ashlyn's fantasies, Kye invites another man into their bed. A brawny Irish stallion, Connor is Kye's best friend -- and that night he secretly falls hard for Ashlyn. Three years later, Kye is killed in a car accident and Connor is at Ashlyn's side for comfort. Soon, with Kye watching from above -- willing for Ashlyn's pain to ease -- Connor and Ashlyn recreate that hot, arousing night they spent together -- leading to much more than they ever imagined.

Step inside Ellora's Cave where passions run wild, and the sexiest fantasies come true....www.EllorasCave.com
About the Author
Elizabeth Jewell, who has been writing paranormal and contemporary romance for many years, is married with two children. Visit her website at www.geocities.com/elizabethjewell/ejewell.html.

Shiloh Walker, the author of over 30 stories for Ellora's Cave, began writing when she was 12. Married since she was 19 to her highschool sweetheart, she lives int he midwest with her husband and their two children.