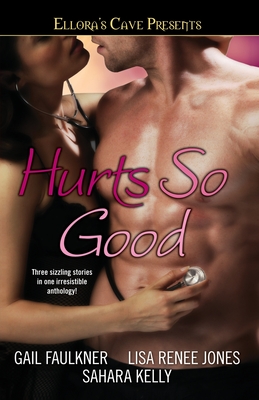 Hurts So Good
Ellora's Cave
Paperback

* Individual store prices may vary.
Description
Three deliciously sexy stories of sensual healers and their naughty patients....

Gail Faulkner
Romeo

After years of illness, Lauren is desperate for a reprieve from her stiflingly protective family -- so she joins her best friend Carla for a weekend at her family's ranch. Although Carla warns the cool, collected Lauren about her womanizing cousin Romeo, when Lauren and Romeo first lock eyes, they feel undeniable passion for one another. Romeo knows he can have any women he desires, but now he longs only to care for this sexy little minx -- and has one short weekend to convince her to stay.

Lisa Renee Jones
Hurt So Good

Shy and cautious physical therapist Kelly Marshall is all work and no play. Determined to go to medical school and avoid becoming like her recklessly irresponsible mother, she has always repressed her wildest and most sinful desires. That is, until she meets sexy architect Mark Majors and discovers a deeply sensual side she never knew she had. And when weeks later he appears in her exam room -- needing her healing touch -- she can't help but surrender, once again, to the passion blazing between them.

Sahara Kelly
Sizzle

For fiery redhead Susanna Chalmers, Dylan Sinclair was the handsome muscle-bound guy in high school she could never have. But eleven years later, now a relationship therapist, Susanna sees Dylan in one of her lectures -- and he reminds her of a steamy night after senior prom when he knew he wanted to have his way with her. As a doctor, Susanna knows he isn't relationship material. But as a woman, her extremely aroused body is telling her otherwise.

Step inside Ellora's Cave, where passions run wild and the sexiest fantasies come true....
www.EllorasCave.com
Gallery Books, 9781416536130, 320pp.
Publication Date: April 3, 2007
About the Author
An award-winning New York Times and USA TODAY bestselling author, Lisa Renee Jones has published more than forty novels spanning many romance genres: contemporary, romantic suspense, dark paranormal, and erotic fiction. In each book the hero is dark, dangerous, and sexy. You can find Lisa on Twitter @LisaReneeJones, Facebook.com/AuthorLisaReneeJones, and her blog LisaReneeJones.com for regular updates.

Born and raised in Great Britain, Sahara Kelly now makes her home in New England, appreciating the often-ironic symmetry of her life. Writing has always been a part of it, although being a wife and mother left her little free time until several years ago. With over three dozen novels now available at Ellora's Cave, Sahara has rediscovered the creative joy of telling her stories, crossing the genres of erotic romance from the past to the future and touching on just about everything in between. She firmly believes everyone should have fantasies and is thrilled to share hers with her readers.