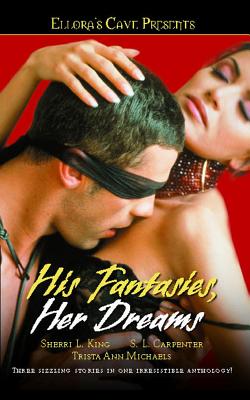 His Fantasies, Her Dreams
Ellora's Cave
Paperback

* Individual store prices may vary.
Description
These three sensual tales prove that even the wildest, most erotic fantasies can come true....

Sherri L. King The Jewel
After a night of drinking her lonely sorrows away, Samantha awakens the next morning to unfamiliar surroundings. It turns out she is in the foreign world of Valeo and has been chosen as a birthday gift for the King. The redheaded beauty is to be part of his exotic harem of women who are there for his pleasure, and who in turn have their most erotic fantasies fulfilled. Soon crowned the King's Jewel -- his favorite -- the two spend night after night enraptured in all-consuming passion. But when Samantha finds herself falling for the powerfully muscular, caramel-skinned King, she realizes she wants him all to herself.

S. L. Carpenter Learning to Live Again
Between an unappreciative boyfriend and a boring dead-end job, Michelle knows she deserves better. So she leaves town for a fresh start -- first to visit her family, and then to begin a new, fulfilling career. On the train back home she meets Josh, a laid-back, handsome guy who Michelle soon realizes -- after an unforgettable, wickedly passionate night together -- was a geeky guy from her childhood. As sparks continue to fly, Michelle must decide between the faraway career of her dreams or the man at home who makes her wild with desire.

Trista Ann Michaels Fantasy Bar
When Kira kills a prominent politician in self-defense, the blond bombshell disguises herself as a redhead and hides out at the business she part-owns, Fantasy Bar. There, patrons can order a drink and have it become their sexual fantasy. And there, Kira meets Jerrod, a hunky guy she wants at first sight -- and who clearly craves her in return. Little does she know, Jerrod is a private investigator and the best friend of the man she killed. And little does Jerrod know that he won't be interrogating Kira, he'll be drinking in his wildest, most erotic fantasies with her instead.

Step inside Ellora's Cave, where passions run wild and the sexiest fantasies come true.... www.EllorasCave.com
Gallery Books, 9781416536161, 288pp.
Publication Date: July 3, 2007
About the Author
S. L. Carpenter, a born and raised Californian, is a writer and cover artist. Visit the author's website at www.slcarpenter.net.

Trista Ann Michaels started writing erotic romance two years ago. Raised an Air Force brat, she married a Navy man and they have three children. Trista's a big believer in happily ever after and although she may put her characters through hell getting there, they always achieve that goal.

Sherri L. King lives in the Deep South with her husband, artist and illustrator Darrell King. The critically acclaimed author of the Horde Wars and Moon Lust series, she loves writing action-packed paranormals.