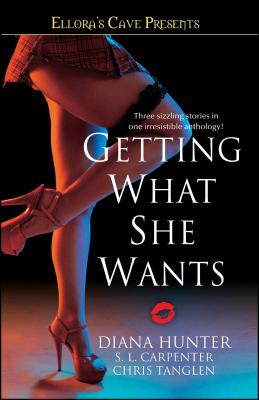 Getting What She Wants
Ellora's Cave
Paperback

* Individual store prices may vary.
Description

Three tales of pleasure and passion, featuring women

who get everything they want from their lovers -- and more....

DIANA HUNTER

Hooked

Wearing strappy stilettos and tight leather pants, sexy and independent Tania Pelligrini was ready for a Saturday of shopping in the city -- for a man, that is. And lucky for her, she spots the perfectly chiseled Jim Delaney, who's eager for some flirtatious fun. Things heat up fast -- but when Tania learns that Jim thinks she's a hooker, she sends him packing. From that moment on Jim can't stop thinking about her and wants another chance. When Tania gives it to him, it turns out he's the fiery and adventurous lover she had been waiting for all along.

S. L. CARPENTER

In the End

Since there are too many men on her planet, the queen of Uranus sends two of her muscle-bound hunks, Tommy and Jared, to find a sexy female to add to the population. So they travel to Earth and immediately find the perfect woman -- Rene, a fiery interior designer looking for a little excitement. Immediately she and Jared are overcome with blazing passion for each other -- and Tommy, too, can't resist the stunning Rene. Soon, all three enjoy a wild galactic ride back to Uranus -- where their pleasures are out of this world.

CHRIS TANGLEN

Mistress Charlotte

Although virgins when they married, Jenny and Brian quickly made up for lost time, exploring their deepest desires and experiencing pleasures they had only dreamed about. But when busy schedules start to interfere with sex, they decide to try something different -- something involving fuzzy handcuffs. Though it doesn't go exactly as planned, the couple have a good laugh and enjoy themselves anyway. But when a quirky stranger named Mistress Charlotte shows up at their door the next day to help them spice up their marriage, Jenny and Brian are in for the sexual adventure of their lives.

Step inside Ellora's Cave, where passions run wild

and the sexiest fantasies come true....

www.EllorasCave.com
Gallery Books, 9781416536185, 240pp.
Publication Date: September 4, 2007
About the Author
S. L. Carpenter, a born and raised Californian, is a writer and cover artist. Visit the author's website at www.slcarpenter.net.

Diana Hunter is the author of Secret Submission. She lives in St. Phelps, New York. Visit her website at www.dianahunter.net.

Chris Tanglen writes sexy comedies for Ellora's Cave. Chris is a fan of energy drinks, red licorice, Gummi bears, and short walks on the beach.