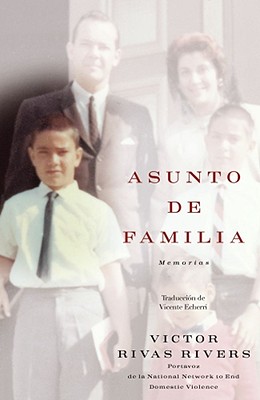 Asunto de familia (A Private Family Matter) (Paperback)
Memorias (A Memoir)
Atria Books, 9781416537298, 432pp.
Publication Date: October 17, 2006
* Individual store prices may vary.
Description
Éste es un relato acerca de cómo el amor me salvó, en un momento en que la mayoría de la gente me daba por perdido.

Así comienza Víctor Rivas Rivers esta magnífica crónica en que narra su fuga desde la zona de guerra de la violencia doméstica -- considerada con demasiada frecuencia como "un asunto de familia" -- y su trayectoria hacia la independencia, la recuperación y la renovación.

En Asunto de familia, Víctor recuerda su época de joven iracundo que vivía bajo la tiranía y la cólera de su padre. El tempestuoso temperamento de su padre, Antonio Rivas García Rubio, a quien por su carácter apodaban El Ciclón, no sólo lo llevó a golpear a su esposa, sino a maltratar -- y finalmente a secuestrar -- a sus propios hijos. La manera en que Víctor logró obtener ayuda para su familia y una sanción legal contra su padre, así como sobreponerse a sus propios demonios, aprender a amarse a sí mismo y llegar a compartir su experiencia con otras víctimas y sobrevivientes de la violencia doméstica, constituye la esencia de esta obra profunda y conmovedora.
About the Author
Victor Rivas Rivers, a veteran actor who has starred in more than two dozen films (including The Mask of Zorro, The Distinguished Gentleman, and Blood In, Blood Out), is the spokesperson for the National Network to End Domestic Violence. He lives in Los Angeles with his wife and son.
Praise For Asunto de familia (A Private Family Matter): Memorias (A Memoir)…
"Una historia repleta de integridad, valor y humanidad: todas las cosas que representa Rivers."

-- Andy García

"Cautivante, poderoso y conmovedor...[este] auténtico relato de cómo un niño fue criado por una aldea de individuos tiernos y valerosos...nos inspira a todos...Magistralmente escrito."

-- Melanie Griffith y Antonio Banderas

"La contribución de Víctor al movimiento para erradicar la violencia doméstica es inigualable...Él es un ejemplo para los hombres y un rayo de esperanza para todas las víctimas de abusos."

-- Lynn Rosenthal, directora ejecutiva de la National Network to End Domestic Violenc