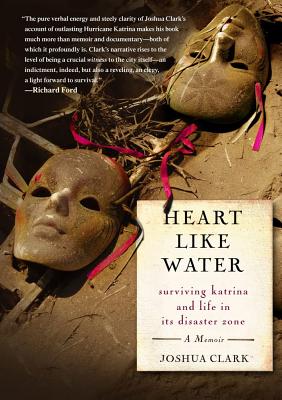 Heart Like Water (Hardcover)
Surviving Katrina and Life in Its Disaster Zone
Free Press, 9781416537632, 368pp.
Publication Date: July 10, 2007
Other Editions of This Title:
Paperback (1/11/2014)
* Individual store prices may vary.
Description
Try it. Right now. Picture the lights going off in the room you're sitting in. The computer, the air conditioning, phones, everything. Then the people, every last person in your building, on the street outside, the entire neighborhood, vanished. With them go all noises: chitchat, coughs, cars, and that wordless, almost impalpable hum of a city. And animals: no dogs, no birds, not even a cricket's legs rubbing together, not even a smell. Now bump it up to 95 degrees. Turn your radio on and listen to 80 percent of your city drowning. You're almost there. Only twenty-eight days to go. Joshua Clark never left New Orleans during Hurricane Katrina, choosing instead to band together with fellow holdouts in the French Quarter, pooling resources and volunteering energy in an effort to save the city they loved. When Katrina hit, Clark, a key correspondent for National Public Radio during the storm, immediately began to record hundreds of hours of conversations with its victims, not only in the city but throughout the Gulf: the devastated poor and rich alike; rescue workers from around the country; reporters; local characters who could exist nowhere else but New Orleans; politicians; the woman Clark loved, in a relationship ravaged by the storm. Their voices resound throughout this memoir of a unique and little-known moment of anarchy and chaos, of heartbreaking kindness and incomprehensible anguish, of mercy and madness as only America could deliver it. Paying homage to the emotional power of Joan Didion, the journalistic authority of Norman Mailer, and the gonzo irreverence of Tom Wolfe, Joshua Clark takes us through the experiences of loss and renewal, resilience and hope, in a city unlike any other. With lyrical sympathy, humility, and humor, Heart Like Water marks an astonishing and important national debut. A portion of the author's royalties from this book will go to the Katrina Arts Relief and Emergency Support (KARES) fund, which supports New Orleans-area writers affected by the storm.Visit www.NewOrleansLiteraryInstitute.com to find out how to make a direct and positive impact on the region.
Praise For Heart Like Water: Surviving Katrina and Life in Its Disaster Zone…
"The first Katrina books were literal and drawn in American Realism tones. Now comes Josh Clark and Heart Like Water, written in surrealistic bursts of purple and crimson and goth black, as vivid as the storm itself and as uncompromising as the survivors of New Orleans."
-- Curtis Wilkie, author of Dixie



"Joshua Clark has written a poignant, evocative book about the city he loves. Heart Like Water has the paradoxical ability to both uplift and haunt."
-- Douglas Brinkley, author of The Great Deluge: Hurricane Katrina, New Orleans, and the Mississippi Gulf Coast



"In the growing constellation of Katrina stories, Josh Clark's masterful tale shines brightest. The Apocalypse destroyed a city and ripped to shreds lives, but the legibility of its profound inner impact had to wait for this book, which is a love story. Clark's book is our Love in a Time of Cholera, but, even more than Marquez's novel, it is immediate and wrenching and true, while its rhythms, like Marquez's, are nothing short of majestic. Josh Clark has written the great nonfiction New Orleans novel, a book that's here to stay.
-- Andrei Codrescu, NPR correspondent and author of New Orleans, Mon Amour



"For those of us who still mourn and fear we will always mourn for our beloved New Orleans, Joshua Clark's memoir of the terrible Katrina -- for which he would not abandon the city -- is a tough and beautiful thing. He has an eye and an ear for the crucial details and he is also a really fine writer. You will mourn anew reading this book, but it will help you heal."
-- Robert Olen Butler, author of Severance and the Pulitzer Prize-winning A Good Scent from a Strange Mountain



"Sprawling, rambunctious, and finally very moving, Josh Clark's Heart Like Water is a valuable, kaleidoscopic record of a time when reality got turned inside out in America's most soulful city."
-- Tom Piazza, author of Why New Orleans Matters



"Heart Like Water gives us not only a first-person history of a horrific time, but all the chaos and absurdity of that time. Clark has produced something that is not only entertaining, but an important document explaining how people adjust and survive."
-- John Barry, author of The Great Influenza and Rising Tide



"Joshua Clark stuck it out in New Orleans during Katrina and the ensuing flood and serves up Apocalypse stew, which doesn't go down easy. Heart Like Water is street reporting at its rawest and most revealing. Clark tells what happened as it happened, the disgusting, painful truth without pontificating from a safe distance. He's a soul survivor if ever there was one."
-- Barry Gifford, author of Wild at Heart and Night People



"The hurricane as seen by a young man in the French Quarter who stayed through it all, describing a trajectory from horrified onlooker to rebel and outcast to angel and mystic and madman, to trauma victim and political activist. As an adopted son of Louisiana and friend to its residents, witness to suffering and the loss of all some possess -- the one thing that is not lost is his devotion to the place and admiration of their spirit and plea for their future."
-- Nancy Lemann, author of Malaise and The Fiery Pantheon



"What was it like? That's what you want to know, isn't it? What was it like when the levees collapsed and New Orleans sank into chaos? Heart Like Water is the vivid eyewitness account by Joshua Clark of life and love in a ruined city."
-- John Biguenet, author of Oyster and The Torturer's Apprentice
or
Not Currently Available for Direct Purchase