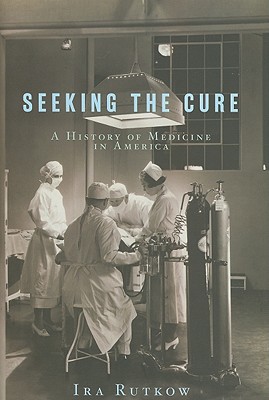 Seeking the Cure (Hardcover)
A History of Medicine in America
Scribner, 9781416538288, 368pp.
Publication Date: April 13, 2010
Other Editions of This Title:
Paperback (4/4/2016)
* Individual store prices may vary.
Description
A timely, authoritative, and entertaining history of medicine in America by an eminent physician
Despite all that has been written and said about American medicine, narrative accounts of its history are uncommon. Until Ira Rutkow's Seeking the Cure, there have been no modern works, either for the lay reader or the physician, that convey the extraordinary story of medicine in the United States. Yet for more than three centuries, the flowering of medicine—its triumphal progress from ignorance to science—has proven crucial to Americans' under-standing of their country and themselves.
Seeking the Cure tells the tale of American medicine with a series of little-known anecdotes that bring to life the grand and unceasing struggle by physicians to shed unsound, if venerated, beliefs and practices and adopt new medicines and treatments, often in the face of controversy and scorn. Rutkow expertly weaves the stories of individual doctors—what they believed and how they practiced—with the economic, political, and social issues facing the nation. Among the book's many historical personages are Cotton Mather, Benjamin Franklin, George Washington (whose timely adoption of a controversial medical practice probably saved the Continental Army), Benjamin Rush, James Garfield (who was killed by his doctors, not by an assassin's bullet), and Joseph Lister. The book touches such diverse topics as smallpox and the Revolutionary War, the establishment of the first medical schools, medicine during the Civil War, railroad medicine and the beginnings of specialization, the rise of the medical-industrial complex, and the thrilling yet costly advent of modern disease-curing technologies utterly unimaginable a generation ago, such as gene therapies, body scanners, and robotic surgeries.
In our time of spirited national debate over the future of American health care amid a seemingly infinite flow of new medical discoveries and pharmaceutical products, Rutkow's account provides readers with an essential historic, social, and even philosophical context. Working in the grand American literary tradition established by such eminent writer-doctors as Oliver Wendell Holmes, William Carlos Williams, Sherwin Nuland, and Oliver Sacks, he combines the historian's perspective with the physician's seasoned expertise.
Capacious, learned, and gracefully told, Seeking the Cure will satisfy armchair historians and doctors alike, for, as Rutkow shows, the history of American medicine is a portrait of America itself.
Praise For Seeking the Cure: A History of Medicine in America…
"In this colorfully panoramic overview of the rise ofAmerican medicine, historian, surgeon and writer Ira Rutkow has made animportant and fascinating contribution to our understanding of the process bywhich the United States has come to lead the world in clinical innovation andscientific advances. This is a book written for everyone —whether professionalor layperson—who seeks to understand the uniqueness of our medical history, aspresented by a skillfully gifted storyteller."
—Sherwin B. Nuland, MD, Clinical Professor of Surgery, Yale School of Medicine,and author of How We Die and Doctors: The Biography of Medicine.



As our country debates health care today, we would bewise to look back to see how American medicine evolved over the years. Dr. IraRutkow's Seeking the Cure is a fine place to start—a fascinating and remarkablytimely survey of our nation's medical successes and failures, highlighting thelaboratory research, the clinical battles, and the professional training ofphysicians from colonial times to the present. To read Seeking the Cure is tograsp the unique qualities of American health care at a crucial—indeed,watershed—moment in our history.
—David Oshinsky



"We all know our own physical frailties, our discomforts and diseases; some of us even have reason to anticipate what will cause our deaths. But who realizes that the identification and treatment of our maladies derive from generations of doctors who struggled to penetrate the mysteries of the body? Dr. Rutkow's remarkable account reminds us how fortunate we are to live now, suggesting that those of us breathing tomorrow will have cause to be even more grateful to the restless inquiry he describes."
--Kathryn Harrison, author of WHILE THEY SLEPT
or
Not Currently Available for Direct Purchase