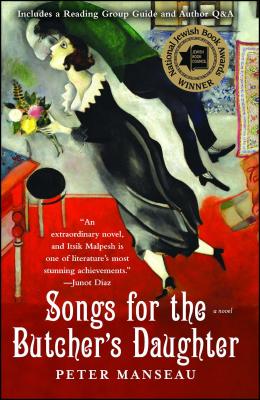 Songs for the Butcher's Daughter
A Novel
Paperback

* Individual store prices may vary.
Other Editions of This Title:
Hardcover (9/9/2008)
September 2008 Indie Next List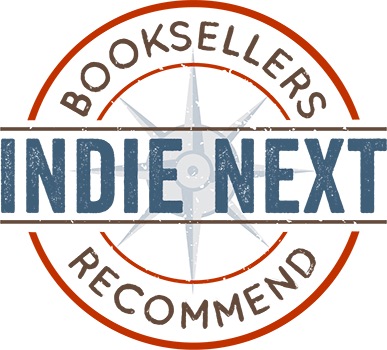 "A tragic story about the last Yiddish poet in America and his young goy translator. Their interwoven lives -- one who doesn't know he is a poet and the other who doesn't know he isn't -- tell a tale that is cleverly structured and beautifully written: a memoir within a novel that reads like a poem."
— Jet Hopster, The Book Works, Del Mar, CA
View the List
Description
In this acclaimed fiction debut, "a rich, often ironic homage to Yiddish culture and language" (Publishers Weekly), Peter Manseau weaves 100 years of Jewish history, the sad fate of an ancient language, and a love story shaped by destiny into a truly great American novel.

In a five-story walkup in Baltimore, nonagenarian Itsik Malpesh—the last Yiddish poet in America—spends his days lamenting the death of his language and dreaming of having his memoirs and poems translated into a living tongue. So when a twenty-one-year-old translator and collector of Judaica crosses his path one day, he goes to extraordinary efforts to enlist the young man's services. And what the translator finds in ten handwritten notebooks is a chronicle of the twentieth century. From the Easter Sunday Pogrom of Kishinev, Russia, to the hellish garment factories of Manhattan's Lower East Side, Itsik Malpesh recounts a tumultuous, heartrending, and colorful past. But the greatest surprise is yet to come: for the two men share a connection as unlikely as it is life-affirming.

With the ardent and feisty Itsik Malpesh, Peter Manseau has created a narrator for the ages and given him a story that will win over readers' hearts and keep them turning pages long into the night. Songs for the Butcher's Daughter is a literary triumph.
Praise For Songs for the Butcher's Daughter: A Novel…
"An extraordinary novel, and Itsik Malpesh is one of literature's most stunning achievements." -- Junot Díaz

"Songs for the Butcher's Daughter is a completely original and exciting novel that, from its first few lines, holds the reader mesmerised. We are in the hands of a supreme storyteller, an author of wit and charm, one who has a breathtaking flair for language. This is a seriously impressive and accomplished work for a debut novel, identifying Manseau as a writer of great and exciting potential, one able to see the world vividly, even through other people's eyes." -- Weekend Australian

"In his debut novel, [Manseau] reaches across cultures to compose a living, breathing portrait of a bad-tempered but charmingly eloquent poet and the young man chosen to bring his words forward in time...The translator's inexperience puts [poet] Malpesh's cynical voice into perspective, as the young man's clumsy first experiences with modern-day romance stand in stark, sometimes poignant contrast to Malpesh...who remembers his 90-something years with equal parts impish humor and profound melancholy...A terrific book with a believable protagonist who's given ample room to tell his tale." -- Kirkus Reviews

"Songs for the Butcher's Daughter is a book about writing, a warm, funny, and fascinating testament to the power of words, a power that outlives a dying language and transcends love." -- Jewish Book World

"Seductive and playful, the novel, with many unforgettable scenes, is also a serious meditation on language, love, loyalty and memory." -- New York Jewish Week

"Ranging from pogroms to poetry, from the purity of sex to the impurity of translation, from the Pale of Settlement to the Lower East Side to Eretz Yisroael, [and] written with utmost integrity as well as dramatic momentum, Songs for the Butcher's Daughter is a delicious read." -- Melvin Jules Bukiet, author of Sign and Wonders

"One of the most original and gripping novels I've read in a long time. From the very first page, I knew I was in the hands of a mesmerizing storyteller and born writer. Blessed with a biting wit, a huge heart, and a dazzling flair for language -- how we use it and how it defines us -- Manseau is the real thing. This is a gorgeous debut novel." -- Ellen Feldman, author of The Boy Who Loved Anne Frank

"Huge in scope and soul, Songs for the Butcher's Daughter is a sweeping, lyrical, utterly consuming epic. Peter Manseau is a writer with the heart of a mystic, and his novel is an extraordinary gift." -- Elisa Albert, author of The Book of Dahlia and How This Night Is Different

"Songs for the Butcher's Daughter explores with profound insight the treacherous territory of language: its elusive, inconstant and enigmatic character and its fundamental role in how we define ourselves as human beings." -- Linda Olsson, author of Astrid and Veronika

"Peter Manseau has created a rich tapestry of European and American Jewish life at the turn of the twentieth century. This beautifully written novel of love and tragedy is a magic-realist tale filled with wonderful detail. We join Mr. Manseau on a hundred-year journey that weaves together the Old and New Worlds." -- Martin Lemelman, author of Mendel's Daughter
Free Press, 9781416538714, 400pp.
Publication Date: June 9, 2009
About the Author
Peter Manseau is the author of Vows and coauthor of Killing the Buddha. His writing has also appeared in The New York Times Magazine, The Washington Post, and on National Public Radio's All Things Considered. A founding editor of the award-winning webzine KillingTheBuddha.com, he is now the editor of Search, The Magazine of Science, Religion, and Culture. He lives with his wife and two daughters in Washington, D.C., where he studies religion and teaches writing at Georgetown University.
"Now that I have read them all, I know the many ways in which the tale of Malpesh's life resonates with the events that led me to his door: a failed love affair, lies of faith, threat of scandal, and, most important, the promise of deliverance through the translation of words. (p. 7)" To what extent does the translator's involvement with Malpesh seem grounded in his own preoccupations and emotional needs, rather than in an exact rendering of those of his subject? When he writes of "deliverance through…translation," what kind of redemption is he looking for, and how does he achieve it in Songs for the Butcher's Daughter?
How would you characterize Sasha Bimko's role in the birth of Itsik Malpesh? How does Malpesh's account of his birth compare to the reality that Sasha discloses to him as an adult? What does his own romanticized vision of his entry into the world reveal about Malpesh's personality? Why does the translator decide to include both accounts of Malpesh's birth in his translated memoir, despite their contradictions?
In such an environment, not passing would have required a concerted effort. And, worse, it might have been disruptive. Why bother insisting I was not a Jew when such insistence would only confound everyone around me? (p. 41)" How does the translator's decision to conceal his true religious identity as a Catholic affect his interactions with his coworker, Clara, and with Itsik Malpesh, the subject of his translation? What does his decision to feign being Jewish reveal about his own comfort with his actual identity?
"[M]y secret learning came at a cost. How could I forget the daily labor I endured to remain housed within this new castle of the mind? (p. 63)" How does Itsik's deception of his family in order to learn how to read Russian compare to his translator's deception of his employers to learn Yiddish? How does each man's discovery of a new language open up new worlds to him, and what do these worlds represent in terms of future possibilities, hopes, and dreams?
How is Chaim Glatt responsible for changing the course of Itsik Malpesh's life as a young boy in Kishinev, and how does that compare to his impact on Itsik, the young and naive émigré in New York, in his newly adopted persona of Charlie Smooth? What accounts for their seemingly irreparable connection to each other? To what extent is Itsik's implication of Chaim in the death of Hershl Shveig a kind of payback for Chaim's mistreatment of him over the years?
"Owing to my own relative ignorance when I first encountered his work, I did not mention any of the larger issues of accuracy…merely some incidents that, to my mind, strained a reader's confidence in his reliability. (p. 85)" How does the series of translator's notes that appears in the narrative of the Songs for the Butcher's Daughter affect your reading of the life story of Itsik Malpesh? How did the translator's role in the narrative inform your appreciation of Malpesh? To what extent can you imagine this novel stripped of the translator and his story?
"Is my bashert then Sasha Bimko? (p. 52)" I asked. How does his idealized vision of Sasha Bimko as his destiny, his beloved, and his muse enable Itsik Malpesh to focus his budding ambitions as a poet? In what respects does Malpesh's attachment to Bimko seem to be grounded in a kind of self-preservation, as she is his one living connection to his birthplace and his family? To what extent does their eventual romantic involvement seem inevitable, and why does the resolution of that relationship in Songs for the Butcher's Daughter, draw in Malpesh's translator and his girlfriend, Clara?
How do the unfortunate circumstances surrounding Malpesh and Hershl Shveig's first encounter compare to their later involvement as adults? Why does Malpesh misinterpret Shveig's interactions with Sasha? What role do their religious differences of opinion play in Malpesh's inability to comprehend Shveig's innocence? How would you characterize the consequences of Malpesh's actions against Shveig? Why does the translator choose to relate this information in his translation of the memoir, rather than expose Malpesh to the authorities as a murderer?
"There is more to tell about how I came to be the translator of Itsik Malpesh, and about the great joke of the fates this arrangement would come to seem.(p. 6)" How do the translator and Malpesh seem fated for each other? How does the translator's connection to Sasha Bimko, through his relationship with Clara, lead Malpesh back to his bashert? How does "the great joke of the fates" (p. 6) seem to be at play throughout Songs for the Butcher's Daughter, given the many quirks of coincidence that bring characters back into one another's lives?
Of the many characters who populate Songs for the Butcher's Daughter, which did you find most compelling, and why? Given the novel's simultaneous narratives — the story of Itsik Malpesh, and the story of his translator — did you feel that either story was more engrossing, or did both engage you equally as a reader? To what extent are these dual narratives able to be separated from each other, and what argument might the author be making about the nature of translation in their interconnectedness?
or
Not Currently Available for Direct Purchase