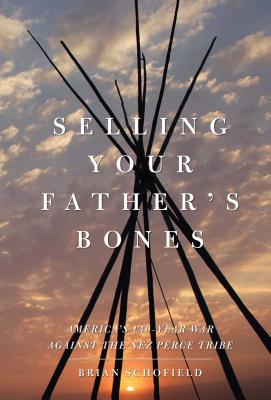 Selling Your Father's Bones
America's 140-Year War against the Nez Perce Tribe
Paperback

* Individual store prices may vary.
Praise For Selling Your Father's Bones: America's 140-Year War against the Nez Perce Tribe…
"Schofield's book, which is admirably ambitious in scope, could well turn out to be a future classic." -- Geographical magazine



"A riveting account of one of the darkest and most misunderstood periods of American history. It should be required reading for anyone who believes that greed and big business are forces for good." -- The Birmingham (England) Post



"It is never dull, politically correct, too late or anything less than shaming and shocking to read about the evils done in the name of European Americans to the indigenous peoples of the northwestern United States. But it takes a book such as this to bring it all together and let you begin to sense the scale of the injustice as Native Americans experienced it....Brian Schofield's heart-rending account is interwoven with contemporary scenes from his researches, in a second-hand van, in the hardscrabble ex-lumber towns of twenty-first-century Idaho. A quiet fury burns through his careful prose." -- The Times (London)



"What can the history of the Nez Perce Indians tell us about today? Brian Schofield's Selling Your Father's Bones is a heartbreaking account of their last stand against the U.S. Army, which also examines the ideology behind the conquest of the West and its place in American thinking today. If you want to understand the forces that unleashed the credit crunch, start here." -- Chris Hannan, The Herald (Scotland), a Best Book of the Year selection



"Genuinely epic." -- The Sunday Times (London)
Simon & Schuster, 9781416539940, 368pp.
Publication Date: January 1, 2011