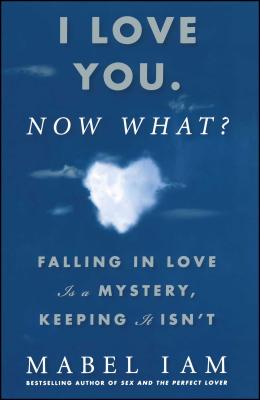 I Love You. Now What?
Falling in Love is a Mystery, Keeping It Isn't
Paperback

* Individual store prices may vary.
Description
World-renowned sex therapist and romance expert Mabel Iam offers a groundbreaking guide to creating long-lasting romantic relationships.

Often we enter into a relationship and say, "I love you," but then wonder, "Now what?" Feeling love for someone is not enough to keep the spark alive. Successful relationships must be based upon a solid foundation that's rooted in a continuous exchange of emotions, ideas, wills, beliefs, actions, reactions, vibrations, thoughts and objectives. Often this can be difficult and complicated to achieve, but I Love You. Now What? offers easy-to-follow methods for enjoying the benefits of a lasting relationship.

Through exploring why we fall in love, reflecting upon the emotional stages we experience and examining issues that can negatively influence our relationships—including communication, trust and sex—Mabel reveals how love can not only survive, but thrive. Mabel's clear and thoughtful advice, her exclusive recipes for great sex and fascinating testimonials from her clients will help readers achieve the ultimate joy in life: long, lasting love.
Praise For I Love You. Now What?: Falling in Love is a Mystery, Keeping It Isn't…
"No need for miraculous pills or phony infomercials. Mabel Iam teaches us with originality, elegance and spice how to make love a daily ritual of understanding, enjoyment and pleasure." -- Walter Larrosa, Ocean Drive en Espanol

"It might be true that to learn the art of love there are no schools, but the pages of this book are as good as a classroom. Iam teaches us that there should be no boundaries to how we express what we feel toward someone else and to how we enjoy a relationship in the fullest way possible." -- Johanna Torres, Editor-in-Chief, Siempre Mujer

"Mabel Iam has found the real pill against heartbreak in the form of a book that doesn't bother telling us what we already know about sex and relationships, revealing instead the secrets we can't afford to be without to be truly happy in love." -- Anjanette Delgado, author of The Heartbreak Pill

"Mabel continues to show us the practical applications of loving and being loved without breaking the magical enchantment of love." -- Lissette Valdés-Valle, journalist

"It's without a doubt the best guide I have ever read for real, intimate and long-lasting relationships. Whether you're married, single, with or without love interest, this book is a must." -- Julia Dangond, senior TV and entertainment executive

"Mabel Iam offers a practical guide for keeping love alive and finding, once and for all, a perfect and harmonious relationship." -- Julio César Paredes, El Diario/La Prensa

"I've been really moved. This book is full of tenderness worth enjoying." -- José Antonio Ponseti, programming director, Caracol Radio
Atria Books, 9781416539957, 304pp.
Publication Date: January 8, 2008
About the Author
Mabel Iam is a psychotherapist and relationship expert, as well as the author of several national and international award-winning bestsellers. She often appears on Telemundo and Univision and has a weekly radio show. Visit her website at www.mabeliam.com.