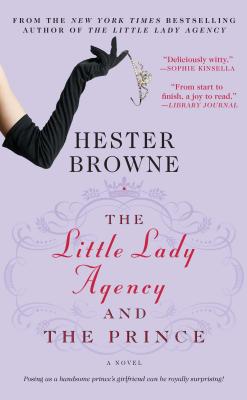 The Little Lady Agency and the Prince
Paperback

* Individual store prices may vary.
Description
Hester Browne created a unique heroine in Melissa Romney-Jones a.k.a. Honey, London's ultimate freelance girlfriend, who won the hearts of readers on both sides of the Atlantic in her "charming and feel-good"(Cosmopolitan) and "funny and original" (People) earlier adventures. Now her New York Times bestselling series sparkles brighter than ever as irrepressible Melissa is hired to reform a playboy prince -- and finds she could get used to the royal treatment.

Making plans for her wedding to American fiancé Jonathan Riley, who now runs a prestigious Parisian real estate company, Melissa agrees to do a favor for her beloved grandmother: transform the notorious Prince Nicolas von Helsing-Alexandros into a proper gentleman for the sake of preserving a family inheritance. Even possessive Jonathan agrees it's a great opportunity to make social connections. But taming a prince might prove too big a professional challenge for Melissa when she's confronting so many seismic changes in her own personal life.

Jonathan needs her in Paris. Her sister Emery's newborn son needs a christening ceremony, as well as a proper name. Emery herself needs Melissa -- to protect her from their bulldog nanny who's returned to do much more than babysit. Most unsettling of all, Nelson needs her to find him a new flatmate because she'll be moving out soon. Balancing all this with late-night dinners, polo matches, and a Mediterranean cruise with Prince Nicky, who is as charming as he is exasperating, suddenly has bride-to-be Melissa dreaming of a fairy-tale ending -- and not the one she expected!
Praise For The Little Lady Agency and the Prince…
"Browne is in great form in this page-turning love story, and Melissa is as endearing and empowering as ever -- the perfect lead for this contemporary fairy tale." -- Publishers Weekly

"This reader was overcome with happiness after tearing open the package to reveal a most coveted item, a new novel by Browne. Having thoroughly enjoyed The Little Lady Agency and Little Lady, Big Apple, this reviewer had reason to believe this final installment might be the best yet....From start to finish, this take is a joy to read." -- Library Journal

"A delight." -- Kirkus Reviews
Gallery Books, 9781416540069, 416pp.
Publication Date: September 9, 2008
About the Author
Hester Browne is the New York Times bestselling author of numerous novels, including The Little Lady Agency in the Big Apple, The Finishing Touches, and Swept Off Her Feet. She lives in London and Herefordshire with her two Basset hounds Violet and Bonham.