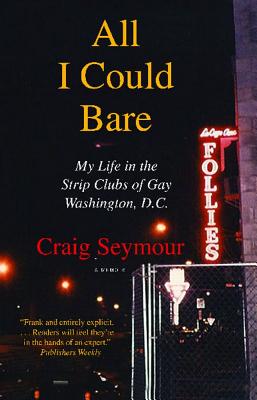 All I Could Bare (Paperback)
My Life in the Strip Clubs of Gay Washington, D.C.
Atria Books, 9781416542063, 256pp.
Publication Date: August 4, 2009
* Individual store prices may vary.
Description
Now in paperback, the frank, funny, explicit, and inspiring memoir about how dancing naked in gay clubs in the nation's capital helped a college professor discover his true self.

All I Could Bare is the story of a mild-mannered graduate student who "took the road less clothed," a decision that would change his life forever. In the 1990s, when Washington, D.C.'s gay club scene was notoriously no-holds-barred, Craig Seymour embarked on his incredible journey, all the while trying to keep his newfound vocation a secret from his parents and maintain a relationship with his boyfriend, Seth. Along the way he met some unforgettable characters: the fifty-year-old divorced man who's obsessed with a twenty-one-year-old dancer; the celebrated drag diva who hailed from a small town in rural Virginia; and the many straight guys who were "gay for pay." Seymour gives readers both the highs (money, adoration, camaraderie) and the lows (an ill-fated attempt at prostitution, a humiliating porn audition). Ultimately coming clean about his secret identity, Seymour breaks through taboos and makes his way from booty-baring stripper to Ph.D.-bearing academic, taking a detour into celebrity journalism and memorably crossing paths with Janet Jackson, Mariah Carey, and Mary J. Blige along the way. Hilarious, insightful, and touching, All I Could Bare proves that sometimes the "wrong decision" can lead to the right place.
About the Author
Craig Seymour is a professor of English at the University of Massachusetts, Dartmouth. A well-regarded writer and photographer, he is the author of Luther: The Life and Longing of Luther Vandross and has contributed numerous articles to The Washington Post, Entertainment Weekly, Vibe, and other publications. He holds a Ph.D. in American Studies from the University of Maryland, College Park. To learn more, visit www.craigseymour.com.
Praise For All I Could Bare: My Life in the Strip Clubs of Gay Washington, D.C.…
"Part sexy parable, part witty reminiscence, part informative history lesson, All I Could Bare is a captivating introspective into a world we all have pondered. Unflinchingly honest, Seymour shows that there's far more to being naked than taking off one's clothes." -- Josh Kilmer-Purcell, author of the New York Times bestseller I Am Not Myself These Days and Candy Everybody Wants

"A clever and candid look into the world of gay male stripping that is infectious, irreverent, and ultimately inspiring." -- Stewart Lewis, author of Rockstarlet

"Witty, humorous, and filled with the guilty indulgence of an unadulterated insider's view...a cunning memoir of what most gay men search for -- to be desired, and hot boys." -- Terrance Dean, author of Hiding in Hip Hop