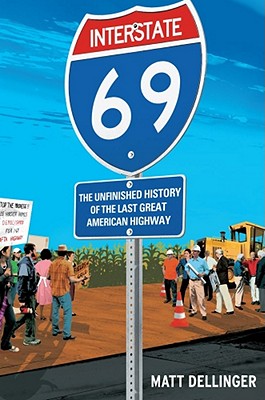 Interstate 69
The Unfinished History of the Last Great American Highway
Hardcover

* Individual store prices may vary.
Other Editions of This Title:
Digital Audiobook (8/30/2010)
Paperback (5/4/2013)
MP3 CD (8/31/2010)
Compact Disc (8/31/2010)
Compact Disc (8/31/2010)
Compact Disc (8/31/2010)
MP3 CD (8/31/2010)
Description
Interstate 69 is an enlightening journey through the heart of America. With this epic tale of one vast and controversial road project, Matt Dellinger brings to life the country's complex political, social, and economic landscape.
The 1,400-mile extension of I-69 south from Indianapolis, if completed, will connect Canada to Mexico through Michigan, Indiana, Kentucky, Tennessee, Mississippi, Arkansas, Louisiana, and Texas. This so-called NAFTA highway has been in development for two decades, and while segments are under construction today, others may never be built. Eagerly anticipated by many as an economic godsend, I-69 has also been opposed by environmentalists, farmers, ranchers, anarchists, and others who question both the wisdom of building more highways and the merits of globalization.
Part history, part travelogue, Interstate 69 reveals the surprising story of how this extraordinary undertaking began, introduces us to the array of individuals who have worked tirelessly for years to build the road--or to stop it--and guides us through the many places the highway would transform forever: from sprawling cities like Indianapolis, Houston, and Memphis to the small rural towns of the Midwestern rust belt, the Mississippi Delta, and south Texas.
This book vividly illustrates that the story of America is indeed the story of transportation--and that story continues. In an era when bridges fall, levies fail, and states lease their toll roads to foreign-owned corporations, Americans are realizing the central importance of infrastructure, how it affects our standard of living and quality of life and how it determines which places prosper and which places fade.
Matt Dellinger connects these dots with an absorbingly human, on-the-ground examination of our country's struggle with development. Interstate 69 captures the hopes, dreams, and fears surrounding what we build and what we leave behind.
Praise For Interstate 69: The Unfinished History of the Last Great American Highway…
"From the first page Matt Dellinger draws a compellingly written narrative that is not only hard to put down but is sweeping in its context. America's history, and its future, breathes in these pages."—Ken Auletta, author Googled: The End of the World as We Know It



"Interstate 69 is not just about highways. It's about Americans deciding on their future. The politics and arguments about this one proposed highway may or may not lead us somewhere—but like any great journey, it's the trip that's the thing."—Lawrence Wright, author of The Looming Tower: Al-Qaeda and the Road to 9/11



"Whether I-69 is ever built or not, it has provided Matt Dellinger a good route into the middle of our country, a fascinating and often-neglected place. His story of an imagined road, its boosters and its discontents speaks eloquently of the deep changes shaking up America today. This is an affectionate, hard-won, and skillfully-made book, filled with the pleasures of original discovery."—Ian Frazier, author of Great Plains and The Rez



"A rollicking dispatch from the heartland as great plans are laid for a mega-highway just at the moment when America runs out of gas. Matt Dellinger is a first-rate reporter and an agile portraitist who gives us a rare look at the loony shenanigans that shape our landscape and our society."—James Howard Kunstler, author of The Geography of Nowhere and The Long Emergency



"A great journey, with sharp reporting and fine writing and a genuine feel for an America we don't often notice. With Dellinger at the wheel, the saga of the unfinished interstate becomes a wonderful tale."—Susan Orlean, author of The Orchid Thief



"Interstate 69 is about a road that doesn't exist, and probably never will, and we learn anew about small town America whose fortunes ebbed and flowed with the advent of the superhighway. Dellinger has given us a new way to understand—and enjoy—our history." —Seymour Hersh, author of Chain of Command: The Road from 9/11 to Abu Ghraib



"Interstate 69 is an American-civics reality show, featuring pitched battles among special interests, grass-roots activists, environmentalists, politicians and Beltway bandits."--Wall Street Journal



"Dellinger's nimble book chronicles the history of a largely unbuilt highway--if completed, it would stretch from the Canadian to the Mexican border--and tells the stories of the communities that stand to profit or to be imperilled by it."--The New Yorker
Scribner, 9781416542490, 352pp.
Publication Date: August 24, 2010
or
Not Currently Available for Direct Purchase