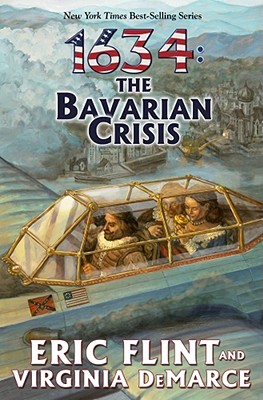 1634 (Hardcover)
The Bavarian Crisis (The Ring of Fire #9)
Baen, 9781416542537, 704pp.
Publication Date: October 2, 2007
Other Editions of This Title:
Digital Audiobook (10/10/2013)
Mass Market (10/28/2008)
* Individual store prices may vary.
Description
The Thirty Years War continues to ravage 17th century Europe, but a new force is gathering power and influence: the Confederated Principalities of Europe, an alliance between Gustavus Adolphus, King of Sweden, and the West Virginians from the 20th century led by Mike Stearns who were hurled centuries into the past by a mysterious cosmic accident.

The CPE has the know-how of 20th century technology, but needs iron and steel to make the machines. The iron mines of the upper Palatinate were rendered inoperable by wartime damage, and American know-how is needed on the spot to pump them out and get the metal flowing again—a mission that will prove more complicated than anyone expects. In the maelstrom that is Europe, even a 20th century copy of the Encyclopedia Britannica can precipitate a crisis, when readers learn of the 1640 Portuguese revolt, a crisis that will involve Naples as well. Another factor: Albanian exiles in Naples, inspired by the Americans, are plotting to recover lost Albanian turf, which will precipitate yet another crisis in the Balkans.

This troubled century was full of revolutions and plans for more revolutions before the Americans arrived, and gave every would-be revolutionary an example of a revolution that succeeded. Europe is a pot coming to a boil, and Mike Stearns will have his hands full seeing that it doesn't boil over on to Grantville and the CPE.
About the Author
Eric Flint is a modern master of alternate history fiction, with more than three million books in print. He's the author/creator of the multiple New York Times best-selling Ring of Fire series, starting with first novel 1632. With David Drake, he has written six popular novels in the "Belisarius" alternate Roman history series, and with David Weber, he has collaborated on 1633 and 1634: The Baltic War and latest Honorverse series entry Cauldron of Ghosts. Flint's latest Ring of Fire novel is 1637: The Polish Maelstrom. Flint was for many years a labor union activist. He lives near Chicago, Illinois.
or
Not Currently Available for Direct Purchase