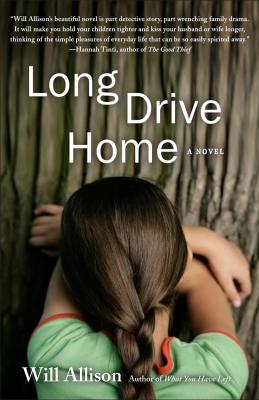 Long Drive Home
Paperback

* Individual store prices may vary.
Other Editions of This Title:
Hardcover (5/17/2011)
Hardcover, Large Print (11/2/2011)
Description
In this New York Times bestselling psychological thriller, "a gripping morality tale that raises questions about race, conscience, and the responsibilities of parenthood" (People), a happily married man makes a split-second decision that sends his life into a devastating tailspin. Life can change in an instant because of one small mistake. For Glen Bauer, all it takes is a quick jerk of the steering wheel intended to scare a reckless driver--not kill him. But when Glen realizes no one saw the deadly accident, he impulsively lies to the police, to his wife, even to his six-year-old daughter, Sarah, who was in the backseat at the time of the crash. In his efforts to avoid a lawsuit or prison, what Glen doesn't see coming is the reaction of his wife, Liz--a panicked plan that threatens to tear their family apart in the name of saving it. But what if the accident wasn't really Glen's fault? What if someone else were to blame? It's a question Glen can't let go of. And as he struggles to understand the extent of his own culpability, he finds himself on yet another collision course, different in kind but with equally terrible potential. Long Drive Home is a stunning cautionary tale of unintended consequences that confirms Will Allison's reputation as a rising literary talent.
Praise For Long Drive Home…
"A man driving with his 6-year-old daughter in the back seat gets a case of road rage after a teenage driver cuts him off….[T]he dad, Glen, decides to teach the teenage boy a lesson….While narrowly focusing his lens on the event and its consequences, Mr. Allison still manages to take in a panorama of human behavior. Not knowing what his little girl was aware of, Glen doesn't admit his role in the accident to his wife or the police. Mr. Allison's gift is in making that lie—and each new one it inevitably spawns—understandable, showing how this story could be anyone's."



"In this psychological thriller, the cover-up is as bad as the crime….With one disastrous decision and the turn of his steering wheel, Glen Bauer manages to destroy four lives and two families. That incident and the years of guilt and deception that follow are the subject of Allison's fine second novel (after What You Have Left), a gripping morality that raises questions about race, conscience and the responsibilities of parenthood….Allison's eye for the quiet details of domestic life highlights what's at stake, and he makes brilliant use of the precocious Sara…"



"Like a nightmare that gets scarier and scarier as the hyperrealistic details mount, Will Allison's psychological thriller Long Drive Home can shake you up . . . But while wondering whether Glen will get arrested is what keeps you turning pages, Allison's eye for the details of marriage and fatherhood, and his deconstruction of what can happen when a good guy makes one false move, are what will break your heart."



"In Long Drive Home, Allison focuses on the brutally quick unraveling of Glen's peaceful existence, filling the reader with not only dread but also the desire to discover what terrible—or hopeful—development awaits on the next page."



"[A] tight drama, part psychological thriller, part tragedy . . . Allison's effortless prose and playful genre mixing showcase a burgeoning talent."



"Will Allison's beautiful novel is part detective story, part wrenching family drama. It will make you hold your children tighter and kiss your husband or wife longer, thinking of the simple pleasures of everyday life that can be so easily spirited away."

-Hannah Tinti, author of The Good Thief


"Will Allison's Long Drive Home is a sneaky novel, and I mean this as highest praise. Just as the narrator's misdeeds sneak into his conscience and then refuse to leave, so too will this novel's wry voice and beautifully drawn characters burrow into your heart and mind. A harrowing, terrifically tense, unforgettable book."

-Brock Clarke, author of Exley


"In Long Drive Home, Will Allison reminds us how risky life is, how one bad move, one swerve from the right path, might set in motion a series of events that can destroy what we love."

-Bonnie Jo Campbell, author of American Salvage


"Long Drive Home examines, with haunting elegance, how quickly one bad decision can descend into calamity. The dread grows with every page—as does the horrifying realization that the narrator's choices could be yours, and his tragedy could so easily be your own."

-Lauren Grodstein, author of A Friend of the Family


"Will Allison is a natural storyteller. As he makes clear with his stunning second book, he also has a habit of writing poignant, compulsively readable novels. Long Drive Home is a gripping, elegant, morally complex, and vividly realized portrait of our time and place."

-Frederick Reiken, author of Day for Night
Free Press, 9781416543046, 219pp.
Publication Date: February 7, 2012
About the Author
Will Allison is the author of What You Have Left. He lives with his wife and daughter in South Orange, New Jersey. Visit him at WillAllison.com.
or
Not Currently Available for Direct Purchase