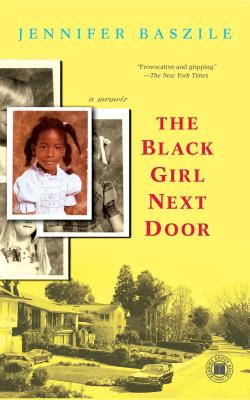 The Black Girl Next Door (Paperback)
A Memoir
Touchstone, 9781416543282, 320pp.
Publication Date: December 29, 2009
Other Editions of This Title:
Hardcover (1/13/2009)
* Individual store prices may vary.
Description

A powerful, beautifully written memoir about coming of age as a black girl in an exclusive white suburb in "integrated," post-Civil Rights California in the 1970s and 1980s.

At six years of age, after winning a foot race against a white classmate, Jennifer Baszile was humiliated to hear her classmate explain that black people "have something in their feet to make them run faster than white people." When she asked her teacher about it, it was confirmed as true. The next morning, Jennifer's father accompanied her to school, careful to "assert himself as an informed and concerned parent and not simply a big, black, dangerous man in a first-grade classroom."

This was the first of many skirmishes in Jennifer's childhood-long struggle to define herself as "the black girl next door" while living out her parents' dreams. Success for her was being the smartest and achieving the most, with the consequence that much of her girlhood did not seem like her own but more like the "family project." But integration took a toll on everyone in the family when strain in her parents' marriage emerged in her teenage years, and the struggle to be the perfect black family became an unbearable burden.

A deeply personal view of a significant period of American social history, The Black Girl Next Door deftly balances childhood experiences with adult observations, creating an illuminating and poignant look at a unique time in our country's history.
About the Author
Jennifer Baszile received her B.A. from Columbia and her Ph.D. in American history from Princeton. She was the first black female professor to join Yale University's history department and has been named one of the "Thirty Leaders of the Future" by Ebony magazine. She lives in Connecticut.
Praise For The Black Girl Next Door: A Memoir…
"The Black Girl Next Door stands out...forthright and courage[ous]." -- Los Angeles Times

"...provocative and gripping..." -- New York Times