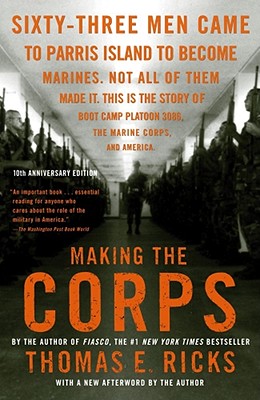 Making the Corps
10th Anniversary Edition with a New Afterword by the Author
Paperback

* Individual store prices may vary.
Description
The bestselling, compelling insider's account of the Marine Corps from the lives of the men of Platoon 3086—their training at Parris Island, their fierce camaraderie, and the unique code of honor that defines them.

The United States Marine Corps, with its proud tradition of excellence in combat, its hallowed rituals, and its unbending code of honor, is part of the fabric of American myth. Making the Corps visits the front lines of boot camp in Parris Island, South Carolina. Here, old values are stripped away and new Marine Corps values are forged. Bestselling author Thomas E. Ricks follows these men from their hometowns, through boot camp, and into their first year as Marines. As three fierce drill instructors fight a battle for the hearts and minds of this unforgettable group of young men, a larger picture emerges, brilliantly painted, of the growing gulf that divides the military from the rest of America.

Included in this edition is an all-new afterword from the author that examines the war in Iraq through the lens of the Marines from Platoon 3086, giving readers an on-the-ground view of the conflict from those who know it best.
Praise For Making the Corps: 10th Anniversary Edition with a New Afterword by the Author…
"A thousand years from now, a historian looking at the U.S. military will do well to cite Ricks's book." -- USA Today

"An important book...essential reading for anyone who cares about the role of the military in America." -- The Washington Post Book World

"Anyone reading this book cannot help but think that America has many lessons to learn from the Marines." -- Chicago Tribune
Scribner, 9781416544500, 336pp.
Publication Date: July 31, 2007
About the Author
Thomas E. Ricks is The Washington Post's senior Pentagon correspondent. A member of two Pulitzer Prize-winning teams for national reporting, he has reported on U.S. military activities in Somalia, Haiti, Korea, Bosnia, Kosovo, Macedonia, Kuwait, Turkey, Afghanistan, and Iraq. He is the author of the #1 New York Times bestseller Fiasco: The American Military Adventure in Iraq and A Soldier's Duty.